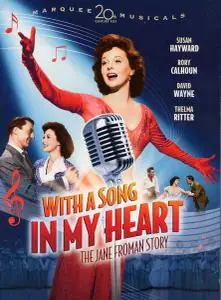 With a Song in My Heart (1952)
DVD9 | VIDEO_TS | NTSC | 4:3 | 720x480 | 6300 kbps | 7.6Gb
Audio: #1 English AC3 2.0 @ 192 Kbps | Subtitles: English, French, Spanish
01:57:00 | USA | Biography, Drama, Musical
Jane Froman (Susan Hayward), an aspiring songstress, lands a job in radio with help from pianist Don Ross (David Wayne), whom she later marries. Jane's popularity soars, and she leaves on a European tour… but her plane crashes in Lisbon, and she is partially crippled. Unable to walk without crutches, Jane nevertheless goes on to entertain the Allied troops in World War II.
Director:
Walter Lang
Cast:
Susan Hayward, Rory Calhoun, David Wayne, Thelma Ritter, Robert Wagner, Helen Westcott, Una Merkel, Richard Allan, Max Showalter, Ed Oliver, Eleanor Audley, Frank Baker, Bill Baldwin, Paul Bradley, Ralph Brooks, Charles Calvert, Harry Carter, James Conaty, Heinie Conklin, Wyatt Cooper, Fred Datig Jr., Vince Degen, Jerry Duane, Johnny Duncan, Juan Duval, Robert Easton, Leif Erickson, Douglas Evans, Herbert Evans, Franklyn Farnum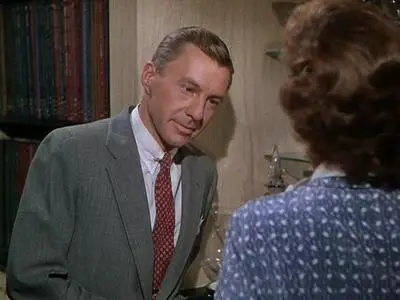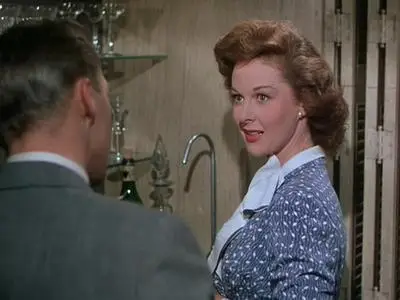 On the night of the annual New York newspapermen's ball, singer Jane Froman is honored as "the most courageous entertainer of the year." As Jane sings, John Burn, who is sitting at her table, remembers her rise to fame: In the mid-1930s, Jane rushes into a Cincinnati radio station to audition for a job. The tardy Jane has missed the audition, however, and mistakes vaudevillian Don Ross for the station manager. Impressed by Jane's lovely voice, Don persuades the real manager to listen to her, and soon Jane is performing as the station's staff singer then undertakes a series of personal appearances. Don, who often appears at the same theaters, is not as successful, but helps to maintain the momentum of Jane's career. As time passes, Don acts exclusively as Jane's manager as she becomes a hit in New York nightclubs. Eventually, Jane is selected as radio's "number one girl singer," while Don realizes that his career in show business is over. In love with Jane, Don presses her to marry him, but although Jane is grateful for his help, she is not in love with him. Don finally wears Jane down, however, and the couple marry. During their honeymoon in California, Jane appears in a movie, then skyrockets to even greater fame through her records and nightclub engagements. Jealous of Jane's career and feeling unproductive, Don provokes quarrels with her, although she offers to quit entertaining and focus on their marriage. Don refuses to let Jane make such a sacrifice, however, and the couple struggle to improve their relationship. After the United States enters World War II, Jane applies to the USO to be sent overseas, and in February 1943, she is notified that she will be leaving for Europe the next day. During the long flight to London via Bermuda and Lisbon, Jane converses with her fellow passengers, including entertainer Jennifer March and handsome co-pilot John Burn. Just before the plane lands on the Tagus River in Lisbon, Jane and Jennifer inadvertently switch seats as they prepare to buckle in. The plane crashes into the river, and the seriously injured Jane is held afloat by John for forty-five minutes. In the hospital, Jane is told that in addition to her other injuries, her right leg has been almost severed below the knee. She also learns that John has suffered serious injuries, and that Jennifer died in the crash. The fifteen survivors of the wreck slowly recover, thanks to the dedication of nurses such as the Brooklyn-born Clancy. Jane still cannot walk, however, and is under constant threat of having her leg amputated. She maintains a cheerful attitude though, with the help of her deepening friendship with John. One day, John confesses to Jane that he has fallen in love with her, and although Jane is touched, she tells him that his feelings are caused only by their shared experiences. Don then arrives to escort Jane and Clancy back to New York, where Jane undergoes a grueling series of operations to save her leg. When John returns to New York, he continues to pursue Jane, and she admits to Clancy that she reciprocates his feelings. Clancy advises her to concentrate on her recovery, and so Jane, desperate for money to pay her medical bills, opens in a show staged by Don. Even though she must be carried on and off the stage, Jane is a success, and the applause touches her deeply. The show's run is cut short by the necessity for more surgery on Jane's leg, and the constant uncertainty depresses Jane, who complains to Clancy that she will never be a normal woman again. Motivated by her devotion to Jane, Clancy refuses to allow her to wallow in self-pity and lectures her about her many blessings. Later, Jane again sings at a nightclub, and one evening, both Don and John tell Jane that she must choose between them. Jane tells John that she must stay with her husband, although John knows that Jane is afraid to commit to him because she is still in danger of losing her leg. During the show, the audience is charmed when Jane sings to a shy, young paratrooper. Later, Jane tells Clancy that she is determined to "finish what she started" by going overseas to entertain the troops, even though she still has difficulty walking and is in great pain. Clancy accompanies Jane on a thirty-thousand mile tour through seven countries, during which Jane sings for many wounded soldiers. Jane's courage inspires the men, and on one visit, she again meets the paratrooper from the New York nightclub. The youth is suffering from shell shock, but Jane's gentle concern prompts him to talk for the first time in months. Meanwhile, back in New York, a drunken Don telephones John to tell him that he intends to move on with his life, and that he will not be there to welcome Jane when she returns home. At her farewell performance in Europe, Jane is presented with a cake by her loving fans, and she leads the soldiers in a song-filled tribute to their homes. Back in New York, at the banquet, John's reminiscences come to an end, and he watches with pride as Jane sings for the newspapermen
IMDb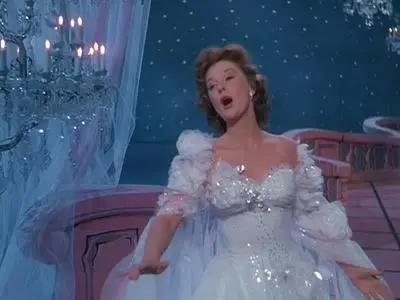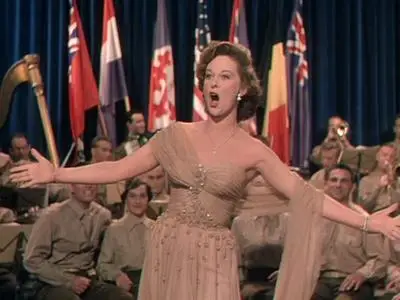 password -
cinema