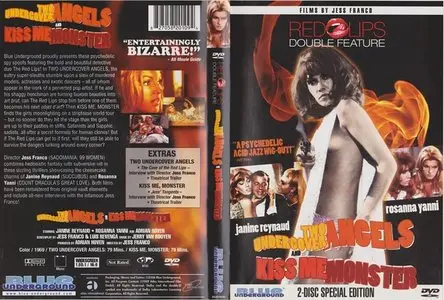 Red Lips Double Feature: Two Undercover Angels (1969) & Kiss Me, Monster (1969)
A Films by Jess Franko
2xDVD5 | VIDEO_TS | NTSC 16:9 (720x480) | 01:18:46 + 01:19:23 | 4,38 Gb + 4,48 Gb
Audio: English AC3 2.0 @ 192 Kbps | Subs: None | Cover + DVD Scans
Genre: Comedy, Mystery, Crime
Blue Underground proudly presents these psychedelic spy spoofs featuring the bold and beautiful detective duo The Red Lips! In TWO UNDERCOVER ANGELS, the sultry super-sleuths stumble upon a slew of murdered models, actresses and exotic dancers - all of whom appear in the work of a perverted pop artist. If he and his shaggy henchman are turning buxom beauties into art brut, can The Red Lips stop him before one of them becomes his next objet d'art? Then KISS ME, MONSTER finds the girls moonlighting on a striptease world tour - but no sooner do they hit the stage than the girls are up to their pasties in stiffs, Satanists and Sapphic sadists, all after a secret formula for human clones! But if The Red Lips can get to it first, will they still be able to survive the dangers lurking around every corner?
Director Jess Franco (SADOMANIA, 99 WOMEN) combines hedonistic fantasy with subversive wit in these sizzling thrillers showcasing the cheesecake charms of Janine Reynaud (SUCCUBUS) and Rosanna Yanni (COUNT DRACULA'S GREAT LOVE). Both films have been remastered from original vault elements and include all-new interviews with the infamous Jess Franco!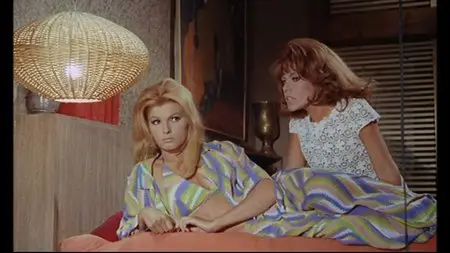 In 1969 Jess Franco would direct two spy films Two Undercover Angels and Kiss me Monsters. These two films are also known as the Red Lips films. Both films would star Janine Reynaud and Rosanna Yanni as the dynamic spy duo Diana & Regina.

Two Undercover Angels (IMDB): When a group of models go missing and the authorities come up with no clues. The red lipstick duo Diana (Janine Reynaud) and Regina (Rosanna Yanni) are assigned to the case. They duo soon discover who is behind these mysterious abductions he is a man named Klaus Triller. Why has he kidnapped these women and what does he plan to do with them?

Kiss me Monster (IMDB): After completing their latest mission Diana (Janine Reynaud) and Regina (Rosanna Yanni) are awoken one evening when they hear someone knocking on their door one stormy night. The man at the door dies because of a knife in his back before he can tell the girls the message he was sent to tell them. It doesn't take long before the girls soon discover that something is not right on the island of Abilene. Will the girls get to the bottom of things in Abilene or have they finally met their match?




Two Undercover Angels is the better of the two films for many reasons with the two most glaring being it has a better plot and the girls wardrobe is more spectacular. By the time Franco got around to shooting Kiss me Monster which just happened to be shot right after the first film ended someone decided that less would be better for the sequel. One other misstep in Kiss me Monster is the padding of the film with scenes from Two Undercover Angels. To its credit Kiss me Monster is a more wide open film as more locations are used. The script is another story as it is just a melting pot of gimmicks and spy films clichés.




The two lead actresses are what make these films as enjoyable as they not only look stunning through out. They are also willing to do just about thing no matter how absurd. Diana & Regina besides being super sexy spies also have a tremendous knack for psychical slap stick comedy. Janine Reynaud and Rosanna Yanni perfectly play off each other and make a wonderful comedy pair.




Both films feature the obligatory night club scene which can be found in just about every film Jess Franco ever made. The jazz inspired scores for both films work well with the films offbeat comedy and general craziness. The Red Lips films are not as due in subtext like most of Franco's work form around this time. This film like many European exports made around the same time features a horrendous English dubbed audio track, still in all of its awfulness there is something about a bad mix like this that just makes a film more entertaining.




Two Undercover Angels and Kiss me Monster didn't leave that great of an impression on me when I first saw them five years ago via Anchor Bay's flawed DVD releases. Re-watching these films via Blue Underground's Red Lips collection which comes with brand new transfers has opened up my eyes about these two oddities from Jess Franco. Overall the Red Lips films while not top tier Franco they are still a lot of fun.

In the late 1990's Anchor Bay released Two Undercover Angels and Kiss me Monsters in compromised versions which cropped the image. Blue Underground has given these two title brand new anamorphic widescreen transfers which preserve their original aspect ratios. Both titles have been flagged for progressive scan. Both titles have solid black levels which exhibit strong and sharp image through out. Colors are nicely saturated and flesh tones look accurate. Overall both films have never looked better.




Each film comes with one audio option an English dubbed audio track which is presented in a Dolby Digital mono. There are no problems with hiss, distortion or any other sound defects. Dialog is easy to follow and understand. Music and effects sound balanced. Overall the audio sources used for these two films exceeded all my expectations.




The extras for these two films are spread over two DVD's. The Two Undercover Angels DVD comes with the films original English language trailer which is also presented in widescreen and a fourteen minute interview with Jess Franco titled "The Case of the Red Lips". Franco during this interview discusses the two Red Lips films. The Kiss me Monster DVD comes with the films original English language trailer which is also presented in widescreen and a twenty two interview with Jess Franco titled "Jess' Tangents". This interview has Jess discussing a wide variety of subjects excluding the Red Lips collection which he doesn't discuss during this interview.

Blue Underground's Red Lips collection is another first rate audio/video presentation that soundly beats all previous DVD release of these films, highly recommended.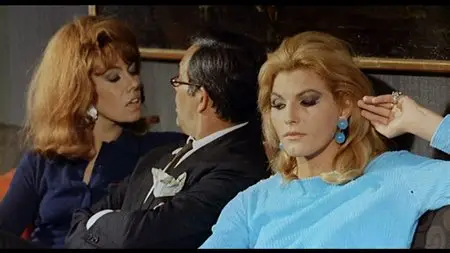 Special Features:
Disc 1: TWO UNDERCOVER ANGELS
- The Case of the Red Lips - Interview with Director Jess Franco
- Theatrical Trailer

Disc 2: KISS ME, MONSTER
- Jess' Tangents - Interview with Director Jess Franco
- Theatrical Trailer
Many Thanks to Original uploader.