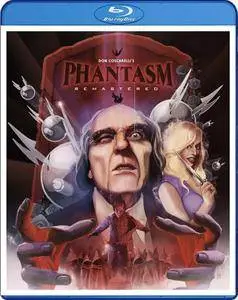 Phantasm (1979) + Extras
1080p BDRip | MKV | 1920x1080 | x264 @ 14 Mbps | 1h 29mn | 11.88 GB & Extra 8.56 GB
English DTS-HD MA (1 ch) @ 1081 Kbps | English AC3 (2 ch) @ 192 Kbps | Sub: English
Genre: Fantasy | Horror | Sci-Fi
Mike, a young teenage boy who has just lost his parents, afraid to lose his brother follow him to a funeral, where Mike witnesses the Tall Man lifting a coffin on his own. Mike decides to investigate, and discovers that the Tall Man, protected by his flying spheres, is shrinking dead bodies down to half their normal size and reanimating them as slaves. It is then up to Mike, his brother, and Reggie the ice cream man to stop the Tall man.
1080p m.i
IMDB