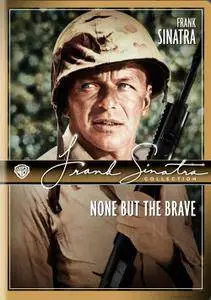 None but the Brave (1965)
DVD9 | ISO | PAL | 16:9 | 720x576 | 5500 kbps | 5.0Gb
Audio: #1 English AC3 2.0 @ 192 Kbps. #2 French AC3 1.0 @ 192 Kbps, #3 German AC3 2.0 @ 192 Kbps, #4 Spanish AC3 2.0 @ 192 Kbps
Subtitles: English, French, German, Spanish, Dannish, Finnish, Greek, Norwegian, Portuguese, Swedish
01:46:00 | USA, Japan | Drama, War
American and Japanese soldiers, stranded on a tiny Pacific island during World War II, must make a temporary truce and cooperate to survive various tribulations. Told through the eyes of the American and Japanese unit commanders, who must deal with an atmosphere of growing distrust and tension between their men.
Director:
Frank Sinatra
Cast:
Tatsuya Mihashi, Takeshi Katô, Homare Suguro, Kenji Sahara, Mashahiko Tanimura, Tôru Ibuki, Ryucho Shunputei, Hisao Dazai, Susumu Kurobe, Takashi Inagaki, Kenichi Hata, Frank Sinatra, Clint Walker, Tommy Sands, Brad Dexter, Tony Bill, Sammy Jackson, Richard Bakalyan, Rafer Johnson, Jimmy Griffin, Christopher Dark, Don Dorrell, Phillip Crosby, John Howard Young, Roger Ewing, Richard Sinatra, Joe Gray, Laraine Stephens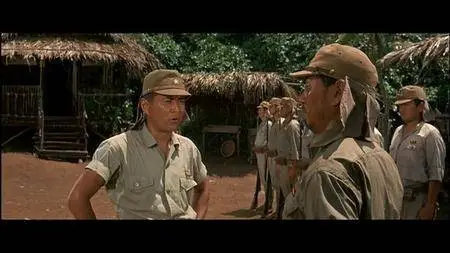 Frank Sinatra had a strong movie career for years, but he only directed one film: None but the Brave, a 1965 anti-war picture that turns out to be much more interesting and compelling than its reputation would suggest. On a remote Pacific island, a plane carrying U.S. Marines crash-lands, setting up a tense stand-off with the overlooked Japanese contingent already there. The two sides mirror each other, and eventually a nervous truce takes place. There are many unexpected choices here, including Sinatra's casting of himself as merely part of the ensemble, a weary pharmacist's mate who–in the film's most riveting sequence–must perform an amputation. The movie's narrated by the Japanese commander (Tatsuya Mihashi), and the Japanese actually speak their own language (well, except for the narration) instead of accented Hollywood English. Sinatra's good in it, and so is TV star Clint Walker, a big he-man with a quite approach. (Tommy Sands, then Sinatra's son-in-law, gives a broad but amusing performance as a nerdy by-the-book officer.) The film bears the influence of Bridge on the River Kwai with a little Mister Roberts thrown in, but it has a bitterness about war that goes all the way through to the forceful final title, a reflection of Sinatra's liberal views at the time. Clint Eastwood got a lot of credit for making two films that showed WWII from the American and the Japanese sides, Flags of Our Fathers and Letters from Iwo Jima, but in a way Sinatra had already done it, and in one movie. It's not a major film, but an honorable effort, and it predates the rash of anti-war counterculture movies by a few years.
IMDb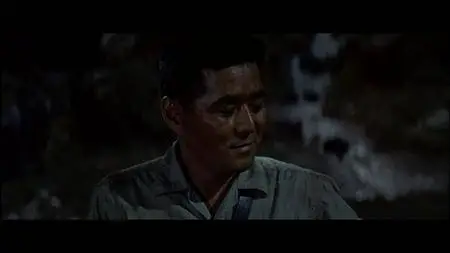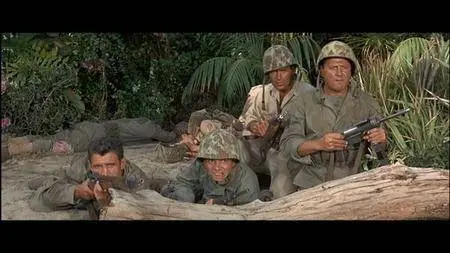 password -
cinema