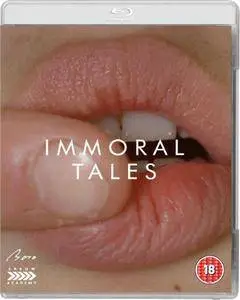 Immoral Tales (1974)
A film by Walerian Borowczyk | Contes immoraux (original title)
720p BDRip | mkv | x265 HEVC @ 3023 Kbps, 24 fps | 1200 x 720 | 1h 43min | 2.39 GB
2-ch French AC3 @ 224 Kbps | Subtitle: English
Genre: Drama, Erotic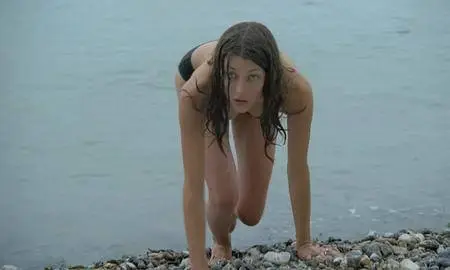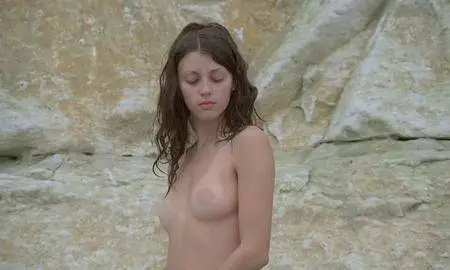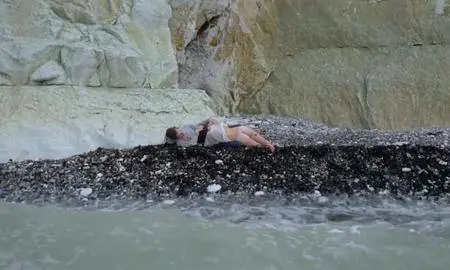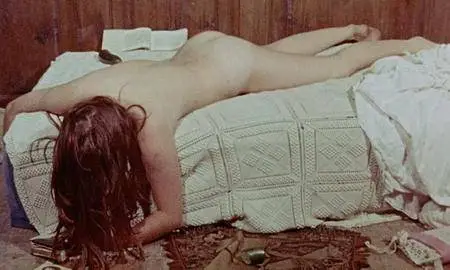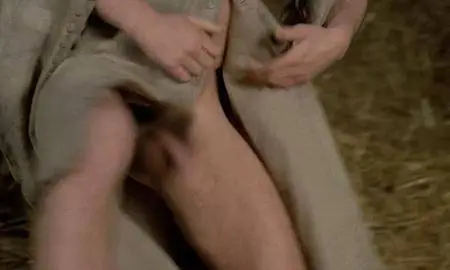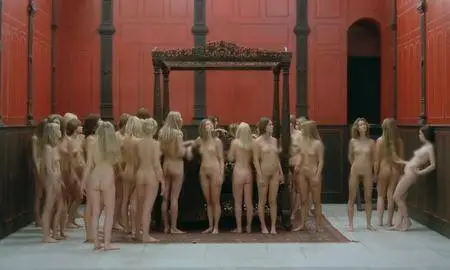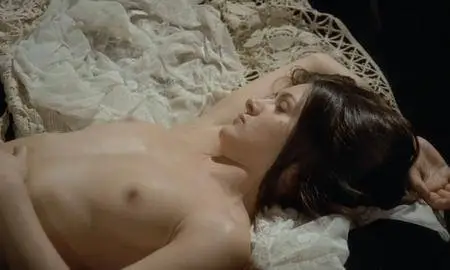 Director
:
Walerian Borowczyk
Writer
: André Pieyre de Mandiargues
Starring
: Paloma Picasso, Lise Danvers, Fabrice Luchini, Charlotte Alexandra, Pascale Christophe, Florence Bellamy
Arrow Video/MVD Entertainment Group's Blu-ray release of Walerian Borowczyk's Contes Immoraux a.k.a. Immoral Tales (1974) offers two different cuts of the film. The first and shorter one features the four stories that also appeared on the now out of print R1 DVD release Anchor Bay produced back in 2000. They are La Maree a.k.a. The Tide, Therese Philosophe, Erzebet Bathory, and Lucrezia Borgia. The longer version, referred to as The L'Age d'Or Cut, features a fifth story, La Bete a.k.a. The Beast, which the Polish director later on developed into a feature film. The feature film was completed in 1975, a year after Immoral Tales.
In The Tide, which is set in present days (sometime during the early 70s), a handsome boy (a very young Fabrice Luchini, In the House, Intimate Strangers) and his cousin (Lise Danvers) visit a secluded beach. There they play a game and the boy seduces the girl. While initially it seems like the boy is the stronger player, it is actually the girl that allows the game to continue and in the process exposes the boy's insecurity.
Therèse Philosophe is about a pious young girl (Charlotte Alexandra, A Real Young Girl) who angers her mother and gets locked up in a room for three days and three nights. There the girl begins experimenting with her body and discovers sexual bliss.
In Erzebet Bathory, the notorious countess (Paloma Picasso) and a group of soldiers visit Nyitra County in Hungary. They seize young virgins and then promptly return to Bathory's castle. Soon after, the girls are stripped naked and ordered to wash in a giant bathroom. Before Bathory joins them, they drink a special potion and go berserk. The bloody finale of this short has to be seen to be believed.
The controversial The Beast offers a fascinating interpretation of the popular story about the legendary beast of Gevaudan. The beast appears somewhere in the Massif Central region and attacks a young and beautiful woman (Sirpa Lane, The Beast in Space). But instead of killing her, the horny beast rapes her – or at least initially it appears that it does. (French director Christophe Gans also used portions of the popular story about the beast of Gevaudan in his blockbuster Brotherhood of the Wolf).
In the fifth and final story, Lucrezia Borgia (Florence Bellamy) and her husband, Giovanni Sforza, Count of Pesaro, visit her father, Pope Alexander VI (Jacopo Berinizi) and brother, Cardinal Cesare Borgia (Lorenzo Berinizi). During a ceremony, the Pope reveals the impotence of his son-in-law and humiliates him. Then following an incestuous ménage à troi, Lucrezia becomes pregnant.
The five stories are explicit and at times quite disturbing but unquestionably thought-provoking. All of them, including The Beast, satirize politically correct attitudes towards sexuality and target various taboo subjects that are typically feared or intentionally avoided. Light humor occasionally sneaks in, but unlike the films in Pier Paolo Pasolini's Trilogy of Life for instance these short stories – possibly with the exception of The Tide – maintain a consistently serious tone.
Stylistically, the five stories look very different. For example, The Beast has a notably dreamy aura, while the The Tide has an artful elegance that reminds of Alain Robbe-Grillet's Eden and After. This should not be too surprising, however, as Borowczyk shot each story with a different cinematographer: Bernard Daillencourt, Guy Durban, Noel Very, Michel Zolat, and Marcel Grignon.
The emphasis on detail is quite extraordinary. In the case of Erzebet Bathory one could easily argue that it is also somewhat intimidating. In this story, the final sequence where the Picasso is seen bathing was actually shot with real pig blood.
Please Note: Playback of these H.265/HEVC encoded video files in VLC media player may cause problem (like Green Screen). A fresh install of the player or a new version can solve this problem. I strongly suggest you to download and install "K-Lite Codec Pack (Full or Mega version; totally free with WMP Classic)" on your system first and then try to play the file in VLC. Or, you can just install PotPlayer, and no codecs will be needed. I use this player for playing all sorts of media… from MP3 audio files to 4K UHD video files.

Mac users please get help from the Internet and YouTube.
MS18pp