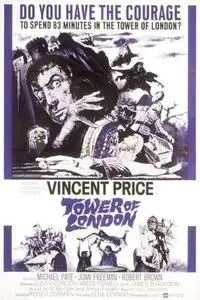 Tower of London (1962)
DVD5 | VIDEO_TS | NTSC | 4:3 | 720x480 | 5200 kbps | 3.9Gb
Audio: #1 English AC3 2.0 @ 192 kbps | Subtitles: English, Spanish, French
01:19:00 | USA | Drama, History, Horror, Thriller
The twisted Richard III is haunted by the ghosts of those he has murdered in his attempt to become the King of England.
Director:
Roger Corman
Cast:
Vincent Price, Michael Pate, Joan Freeman, Robert Brown, Bruce Gordon, Joan Camden, Richard Hale, Sandra Knight, Charles Macaulay, Justice Watson, Sarah Selby, Donald Losby, Sara Taft, Eugene Mazzola, Morris Ankrum, Paul Frees, Gene Roth, Jack Tornek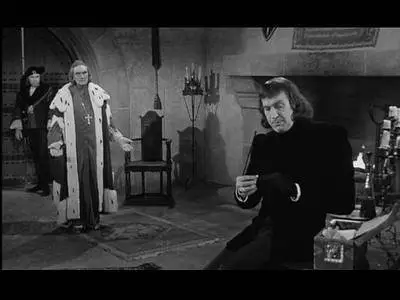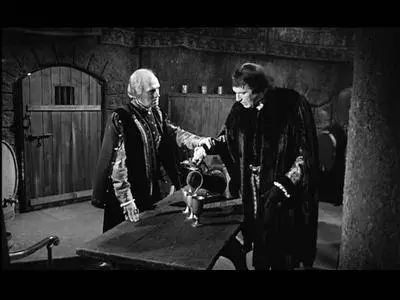 On the death of his brother King Edward IV, Richard of Gloucester conspires to get the throne for himself. The late King had two young sons, his heir, Edward V and the younger Prince Richard, but they are not of age and so names his other brother, Clarence as Lord Protector of the Realm. Gloucester soon kills his younger brother but is haunted by his ghost and what he has done. As he continues to kill those around him, Gloucester is haunted by those he has betrayed hearing voices and slowly descending into madness. He spreads rumors that the late King's two sons are illegitimate and therefore not eligible to ascend to the throne. He assassinates the young princes and is crowned King Richard III. The ghosts from his past have the final say however.
~ garykmcd
In between basing no less than seven movies on the wondrously macabre writings of author Edgar Allan Poe, the mega-versatile cinema wizard Roger Corman also found the the time to adapt a famous William Shakespeare play and turn it into an effectively creepy and atmospheric 60's chiller. The greatest actor who ever walked the earth – Vincent Price, who else? – plays another malicious but emotionally tormented protagonist in the English kingdom of the late 15th century. He is Richard Plantagenet, unlikely to ever inherit the throne in a righteous way, but willing to kill blood relatives in order to become King of all England. But immediately after murdering his own brother and other innocent people that stand in his way, the restless spirits of his victims come back to haunt him in visions. "Tower of London" is a fascinating history lesson, perhaps not very accurate, but at least vastly entertaining and providing more than enough genuine frights and atmosphere. Continuously descending further into madness, sir Richard submits his victims to uncanny medieval torture devices, like a stretching-rack and a rat cage that gets placed on a poor guy's head. The photography is in stylish black & white, the costumes are downright enchanting and the use of medieval vocabulary sounded like pure music to my ears. Vincent Price is amazing, as always, portraying the historical madman that also suffered from a hereditary handicap. The performances of the supportive cast are sadly a bit hammy. For some reason and unlike most other masterpieces starring Price, this baby is rather difficult to find but definitely worth searching for. A must for fans of classic horror.
~ Coventry
IMDb