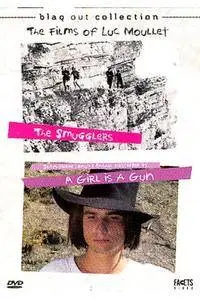 Les Contrebandières (The Smugglers, 1967) & Une Aventure de Billy le Kid (A Girl Is A Gun, 1970)
(Comedie parodie) France Realisation Luc MOULLET
From the mind of Luc Moullet, the unknown genius of the original French New Wave, comes this pair of riotous comedies that capture the movements spirit of anarchy. THE SMUGGLERS is the story of two women who smuggle packages and people between two warring nations. A wacky take on the action-adventure tale, the film exploits its low-budget look to offer a digressive and aggressive slapstick comedy. Called maybe the best film not made by Godard by Jean-Marie Straub, Europes leading intellectual filmmaker, this movie about borders and barriers sports a cameo appearance by Moullet himself, who is listed in the credits as the pompous fool. Jean-Pierre Leaud stars.
Les contrebandières (1967)
DVDrip | MKV H264-1659 | mp3@160 | 720x528 | Audio: French | Sub: English (idx/sub) | 1h16 | 1.0 Gb
France 1968 | Realisation Luc MOULLET
Avec Françoise Vatel (Brigitte) Monique Thiriet (Francesca) Johnny Monteilhet (le douanier) Luc Moullet (le pontifiant) Paul Martin (le fonctionnaire) Albert Juross (le braconnier) Bernard Cazassus (le forain) Gérard Tanguy, Patrick Hubre (membres du syndicat)
Brigitte fait de la contrebande à la frontière franco-mexicaine. Elle est repérée par un faux douanier qui l'arrête, la fouille et lui enlève tous les objets et toutes les denrées qu'elle porte sur elle. Le garçon est très jeune, les lieux sont déserts, la fouille trop intime pour que ça ne se termine pas de façon prévisible. Brigitte continuera de « travailler » pour son nouvel ami qui lui apprendra tous les secrets du métier comme il les apprend à Francesca, une contrebandière déjà initiée. La contrebande, ce n'est pas seulement une activité, c'est un état libéré de tout conformisme social et même de tout confort ménager ; une vie marginale, mais libre. La difficulté professionnelle provient du fait que le jeune contrebandier et ses deux compagnes doivent déjouer la surveillance et les poursuites, d'une part des douaniers et, d'autre part, du syndicat des contrebandiers auquel le garçon refuse de payer sa cotisation. Une autre difficulté, sentimentale celle-là, c'est que les deux filles doivent s'accommoder du ménage à trois. Mais puisqu'il n'est pas possible, dans la circonstance, de faire autrement, la solution consiste à ne pas se poser de questions. Tout le drame est là : « comment résoudre la question de ne plus avoir de questions ?». Brigitte décide d'être jalouse. On assiste à la poursuite des deux hors-la-lol par la Police et le syndicat des contrebandiers et à la poursuite de ses deux associées par leur jeune chef qui ne les rejoint jamais. La contrebande est périlleuse et fatigante. Après avoir erré dans les grottes, les montagnes, les glaciers, les déserts et les côtes maritimes, le trio arrive au Havre et décide de se caser. Impossible, car il faudrait abandonner, non seulement la contrebande mais l'esprit de contrebande ; or, un patron, un horaire, c'est aussi la douane ! Tout le monde se retrouve dans le décor du début. ©
Les fiches du cinéma 2001
"Les Contrebandières, known in English as "The Smugglers", is a 1967 film by French director Luc Moullet; it was his second feature film.Two female smugglers decide to quit their illegal profession to enter into society and take a regular job. Despite their good intentions, they don't succeed. In "The Smugglers" a cunning customs officer (Johnny Monteilhet) working the border that divides two warring nations gets a nice system going by forcing his two attractive lady friends (Françoise Vatel and Monique Thiriet) to move contraband back and forth in equal proportion. In some ways the film echoes "Les Carabiniers," a similarly stripped-down, cynical parable directed by Mr. Moullet's close friend Jean-Luc Godard in 1963.
IMDB
For the Frenchies
Luc MOULET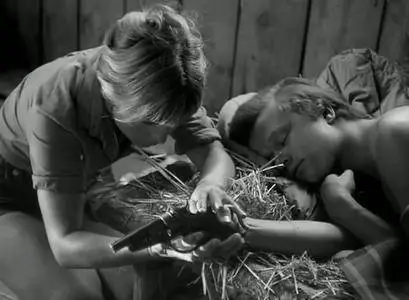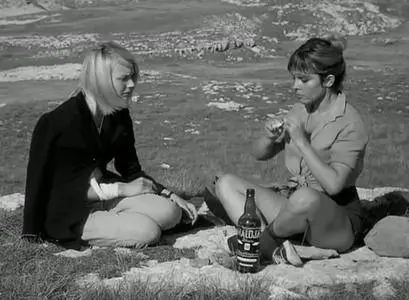 Screenshots with MPC (Click to enlarge)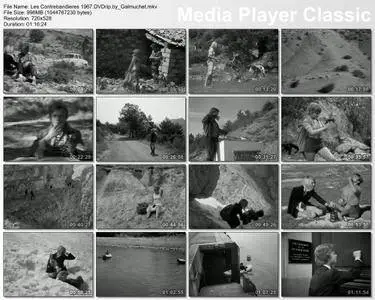 Une Aventure de Billy le Kid / A Girl is a Gun (1970)
DVDrip | MKV H264-1529 | mp3@160 | 720x416 | 2 Audio tracks French_1 English_2 | Sub: English (srt) | 1h15 | 1.0 Gb
France 1971 | Realisation Luc MOULLET
Cast/Avec Jean-Pierre Léaud (Billy le Kid), Rachel Kesterber (Ann), Michel Minaud (Sheriff Holiday), Jean Valmont, Bruno Kresoja, Bernard Pinon.
Après avoir réussi seul le hold-up de la diligence de la Wells Fargo, Billy a bien du mal à transporter son butin. Il rencontre Ann qui a fui devant l'attaque des Cherokee. Une étourdissante parodie de western.
With "A Girl Is a Gun," Mr. Moullet stepped up to color, widescreen and a star holding down the lead (Jean-Pierre Léaud, of Truffaut's Antoine Doinel films). But this parody — less of American westerns than of their already self-conscious Italian counterparts, flourishing at the time the film was made — still makes comic hay of its pathetically reduced means. The action takes place in dusty mountain passages, where Billy the Kid (Mr. Léaud, in striped pants and long hair that give him a distinct hippie look) encounters an attractive female traveler (Rachel Kesterber) and enlists her as his mule, unaware that she has her own reasons for going along. Somehow the plot builds to a climax borrowed from King Vidor's "Duel in the Sun" as the two protagonists wrestle in a cloud of dust.
IMDB
For the Fenchies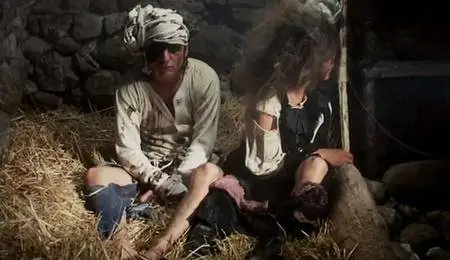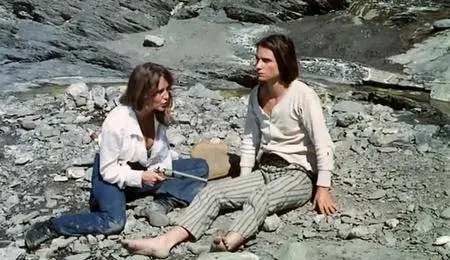 Screenshots with MPC (Click to enlarge)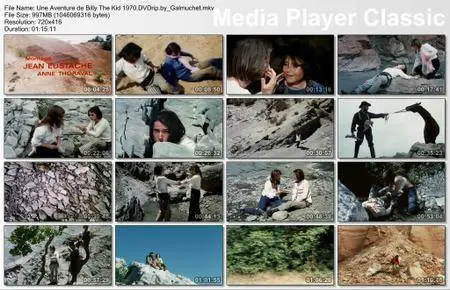 Click -> Galmuchet blog