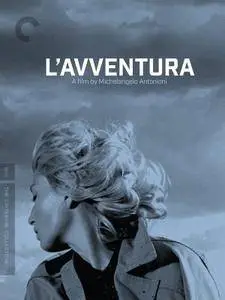 L'avventura (1960) Criterion Collection [with Extras]
BDRip | 143min | MKV | 1920x1040 | HEVC -> 4000kbps | E-AC3 1.0 256kbps
Drama-Mystery | Language: Italian | Subtitles: English | 4.32GB+528MB
This ground-breaking film won a Special Jury Prize at the 1960 Cannes Film Festival and established its director, Michelangelo Antonioni, as a major international talent. The plot concerns a yachting trip by a small group of jaded socialites, including Sandro (Gabriele Ferzetti), an aging architect who sold out for easy money long ago, his mistress Anna (Lea Massari), and her friend Claudia (Monica Vitti), who doesn't fit in with the wealthy jet-setters' dissolute ethics. When Anna disappears during a tour of a volcanic island, Claudia initially blames Sandro's emotionally barren behavior toward her. As they search the island, however, Claudia and Sandro grow closer and – when it is apparent that Anna is gone forever – become lovers. Unfortunately, Sandro cannot find anything decent inside himself and betrays Claudia with a local prostitute. Caught in the act, Sandro has a heartrending breakdown on a desolate beach, but Claudia silently forgives him. L'avventura caught many audiences who were expecting a mystery by surprise; as in La notte (1961), The Eclipse (1962), and Red Desert (1964), Antonioni is interested less in developing a logical story than in exploring states of feeling and breakdowns in human connection.
STARS.........: Gabriele Ferzetti, Monica Vitti, Lea Massari
DIRECTOR......: Michelangelo Antonioni
WRITERS.......: Michelangelo Antonioni
GENRE.........: Drama, Mystery
IMDB RATING...: 8.0/10  18,948 votes
IMDB LINK.....: http://www.imdb.com/title/tt0053619
RUNTIME.......: 2h 23mn
SIZE..........: 4.32 GB
VIDEO CODEC...: HEVC (Main10@L4)
RESOLUTION....: 1920x1040
ASPECT RATIO..: 1.85:1
BITRATE.......: 4000 Kbps (2-pass)
FRAMERATE.....: 23.976 fps
AUDIO1........: Italian E-AC3 1.0 256kbps
AUDIO2........: Commentary with Gene Youngblood
SUBTITLES.....: ENG
CHAPTERS......: Yes
SOURCE........: Blu Ray
ENCODED BY....: Sartre
ENCODE DATE...: 2017-03-01
Sample Clip (Download for actual quality)
https://drive.google.com/open?id=0B77BuxFtBmKtYTVZXzk1QWlJWmM
Extras
• Antonioni: Documents and Testimonials - This documentary produced by Gianfranco Mingozzi and endorsed by Michelangelo Antonioni initially appeared on Criterion's DVD release of L'Avventura. It focuses on his personal life (from his childhood years in Ferrara to his final days in Rome) and working methods (archival footage from the shooting of a number of different films is included). Also used in the films are clips with comments from different actors that appeared in Michelangelo Antonioni's films, such as Lucia Bosé (Story of a Love Affair), Valentina Cortese (Le Amiche), and Monica Vitti, as well as fellow directors, such as Cesare Zavattini (Love in the City) and Federico Fellini (who worked with Michelangelo Antonioni on the script for his first film, The White Sheik). The documentary was produced in collaboration with the Film Board of Canada in 1966. In French and Italian, with optional English subtitles. (59 min, 720p).
• Olivier Assayas on L'Avventura - French director Olivier Assayas (Carlos, Something in the Air) provides a critical analysis of L'Avventura, which is presented in three parts. The program was produced by Editions Montparnasse in 2004 and reedited by Criterion. In French, with optional English subtitles (27 min, 720p).
• L'Avventura: A Moral Adventure - The essay focuses on Michelangelo Antonioni's unwillingness to discuss his films. The director argues that films should teach the viewer to blend visual image and sound and idea so that they become a unified experience, and explains what motivated him to shoot L'Avventura. Audio only. (10 min, 720p).
• Reflections on the Film Actor - In this essay, Michelangelo Antonioni highlights some of the qualities actors should possess and discusses the type of relationship that should exist between actors and directors. Audio only. (7 min, 720p).
• Working with Antonioni - In this audio segment, Jack Nicholson addresses some of the points made by Michelangelo Antonioni in the two essays, and recalls some of his more interesting interactions with the Italian director. Audio only. (6 min, 720p).
• Trailer - The original English-language trailer for L'Avventura. (3 min, 720p).
• Commentary - in this audio commentary, film historian Gene Youngblood analyzes the evolution of the relationship between Claudia and Sandro, the film's visual style (the choreography of the images), some of the erotic overtones, the role of nature in the film and the manner in which it is shot, the revolutionary use of dialog, etc. The audio commentary was recorded exclusively for Criterion in 1989 and was included on the first DVD release of L'Avventura.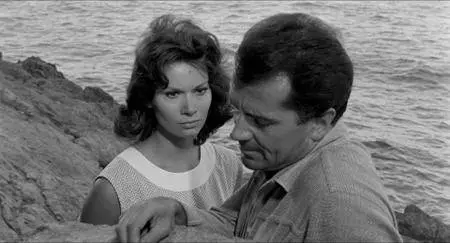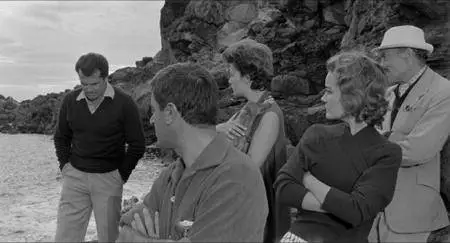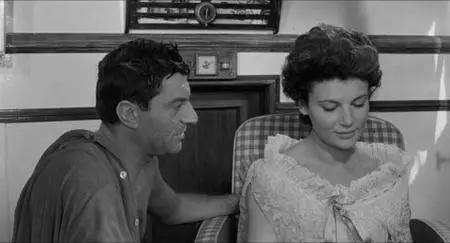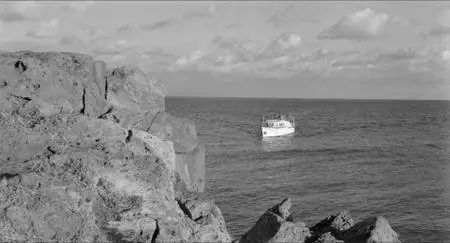 Download
https://icerbox.com/XONRZRPO/L'avventura.1960.Criterion.1080p.BluRay.10Bit.HEVC.EAC3-SARTRE.mkv
https://icerbox.com/el08Kadl/lavventura.criterion.extras.720p.sartre.rar