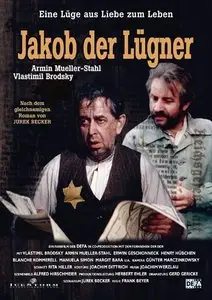 Jakob, der Lügner [Jacob le menteur] 1975
DVDrip | MKV H264-1286 | mp3@160 | 720x536 | Audio: German | Subs: French, English, Spanish, Hebrew (idx/sub & srt) | 1h36 | 1.0 Gb
Comedy drama | East Germany April 18, 1975 | Director Frank BEYER
Cast Vlastimil Brodský, Erwin Geschonneck, Henry Hübchen, Blanche Kommerell, Manuela Simon, Dezsõ Garas, Zsuzsa Gordon
Schauplatz ist ein osteuropäisches Ghetto im Jahr 1944. Jakob möchte seinen Leidensgefährten angesichts des Vormarsches der Roten Armee Hoffnung machen. Im Dienstraum der Gestapo hatte er entsprechende Meldungen aufgeschnappt. Jakob behauptet nun, heimlich ein Radio zu besitzen und erfindet ermutigende Nachrichten. Selbstmorde, zu denen Ghettobewohner immer wieder getrieben wurden, hören auf. Jeder wartet auf die Befreiung. Damit diese Hoffung bleibt, muss Jakob immer weiter lügen. Eines Tages entdeckt ein kleines Mädchen, dass Jakob gar kein Radio besitzt und alle Nachrichten erfunden waren. Das Ghetto befindet sich kurz vor der Deportation, doch die Menschen klammern sich weiter an Jakobs Lügen.
Seconde Guerre mondiale en Pologne. Dans le ghetto de Varsovie, Jakob vit avec les siens. Sorti apres le couvre-feu, il est convoqué dans le bureau du commandant nazi et parvient miraculeusement à sortir indemne de son tête-à-tête.
Jacob, the Liar (Jakob, der Lügner, 1975) is one of the best acted & most moving tales of the Holocaust I've seen. A tragi-comedy, the besieged Warsaw ghetto is being emptied out section by section, & there is no chance for anyone's survival. Jakob, der LugnerFilmed in what was at the time East Germany, set in Poland, Jakob, der Lugner looks at an issue that West Germany of the 1970s was inclined to ignore. It's a subtle film in many ways & some have faulted it for not showing sufficient deprivation.
IMDB
German info
For the Frenchies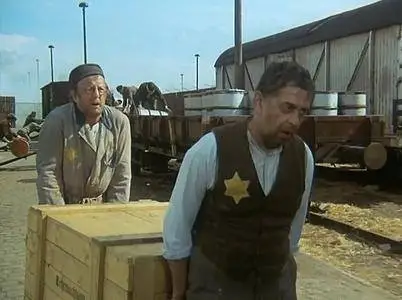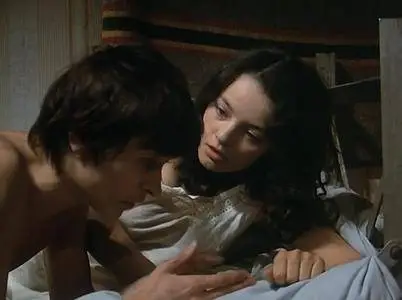 Screenshots avec MPC (Click to enlarge)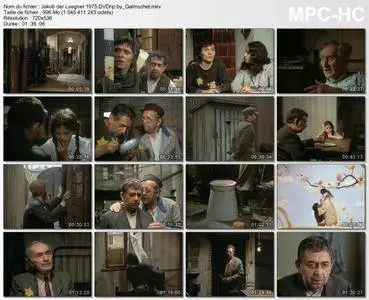 Click -> Galmuchet blog