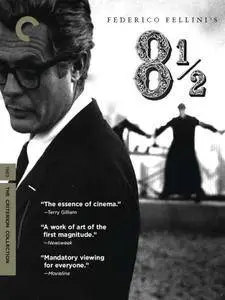 8½ (1963) Criterion Collection [Fellini's Eight and a Half] + Extras
BDRip | 139min | MKV | 1920x1040 | x264 -> 4000kbps | E-AC3 1.0 256kbps
Drama-Fantasy | Language: Italian | Subtitles: English | 4.22GB
Fresh off of the international success of La Dolce Vita, master director Federico Fellini moved into the realm of self-reflexive autobiography with what is widely believed to be his finest and most personal work. Marcello Mastroianni delivers a brilliant performance as Fellini's alter ego Guido Anselmi, a film director overwhelmed by the large-scale production he has undertaken. He finds himself harangued by producers, his wife, and his mistress while he struggles to find the inspiration to finish his film. The stress plunges Guido into an interior world where fantasy and memory impinge on reality. Fellini jumbles narrative logic by freely cutting from flashbacks to dream sequences to the present until it becomes impossible to pry them apart, creating both a psychological portrait of Guido's interior world and the surrealistic, circus-like exterior world that came to be known as "Felliniesque." 8 1/2 won an Academy Award for Best Foreign-Language Film, as well as the grand prize at the Moscow Film Festival, and was one of the most influential and commercially successful European art movies of the 1960s, inspiring such later films as Bob Fosse's All That Jazz (1979), Woody Allen's Stardust Memories (1980), and even Lucio Fulci's Italian splatter film Un Gatto nel Cervello (1990).
STARS.........: Marcello Mastroianni, Anouk Aimée, Claudia Cardinale
DIRECTOR......: Federico Fellini
WRITERS.......: Federico Fellini, Ennio Flaiano, Tullio Pinelli, Brunello Rondi
GENRE.........: Drama, Fantasy
IMDB RATING...: 8.1/10  82,099 votes
IMDB LINK.....: http://www.imdb.com/title/tt0056801
RUNTIME.......: 2h 19mn
SIZE..........: 4.22GB
VIDEO CODEC...: x264 (High@L4.1)
RESOLUTION....: 1920x1040
ASPECT RATIO..: 1.85:1
BITRATE.......: 4000 Kbps (3-pass)
FRAMERATE.....: 23.976 fps
AUDIO.........: Italian E-AC3 1.0 256kbps
AUDIO2........: Commentary with Tanya Zaicon, Gideon Bachmann and Antonio Monda
SUBTITLES.....: English
CHAPTERS......: Yes
SOURCE........: Criterion Blu Ray
ENCODED BY....: Sartre
ENCODE DATE...: 2017-02-01
Extras
• Introduction with Terry Gillam - The director quickly explains what makes Fellini's 8 ½ such an important film as well as the type of impact the film had on his career. (8 min, 720p).
• Fellini: A Director's Notebook - The Italian director made this hour-long "documentary" for producer Peter Goldfrab and NBC in 1969. A meditation on his films - including those he had abandoned and those he had not yet made - it follows the path laid out by 8 ½ and leading to such later self-reflexive films as Fellini's Roma and Orchestra Rehearsal. (52 min, 1080p).
• The Last Sequence - Federico Fellini originally intended for 8 ½ to end with a surreal sequence in a train car - sets were built and footage was shot, but all that remains are still photographs. From this starting point, Mario Sesti's fifty-two-minute documentary details the story of the original ending how it came to be replaced. (51 min, 720p).
• Nino Rota: Between Cinema and Concert - This is the same documentary by Vassili Silovic that was included on Criterion DVD release of 8 ½ . It focuses on Maestro Rota's work and his collaborations with Fellini. In German, with optional English subtitles. (48 min, 720p).
• Sandra Milo - The Italian actress talks about her first encounter with Fellini, the shooting of 8 ½ , etc. In Italian, with optional English subtitles. (27 min, 720p).
• Lina Wertmuller - In this video interview, the Italian director recalls her collaboration with Fellini on 8 ½, and explains how Fellini helped her direct her first film. Mrs. Wertmuller also discusses the important role women had in Fellini's life. In Italian, with optional English subtitles. (18 min, 720p).
• Vittorio Storaro - The famous cinematographer discusses Gianni Di Venanzo's unique use of light, his work with Fellini on 8 1/2, etc. In English. (18 min, 720p).
• Trailer - The original theatrical trailer for 8½ (3 min, 720p).
• Commentary - This is the same audio commentary that was included on Criterion's DVD release of Fellini's 8 ½ . It combines an audio essay, read by actress Tanya Zaicon, and interviews with Fellini friend and documentarian Gideon Bachmann and NYU film professor Antonio Monda. It was recorded in New York and Berlin in 2001.
Sample Clip (Download for actual quality)
https://drive.google.com/open?id=0B77BuxFtBmKtQ2tXU2haRkFraVU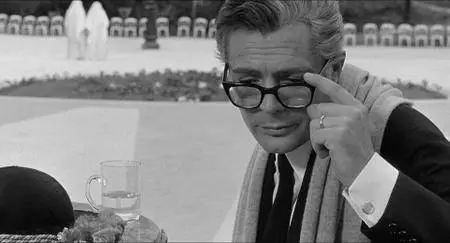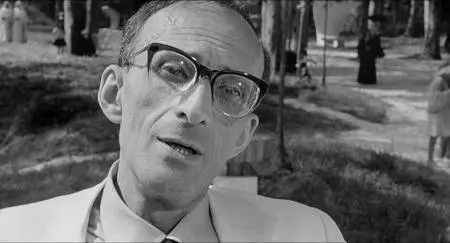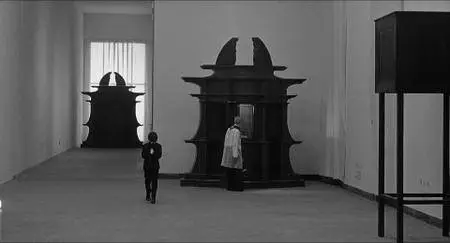 Download
https://icerbox.com/0g5W1bon/8%C2%BD.1963.Criterion.1080p.BluRay.x264.EAC3-SARTRE.mkv
https://icerbox.com/9nd4NbBn/8%C2%BD.1963.Criterion.Extras.720p.x264.EAC3-SARTRE.rar