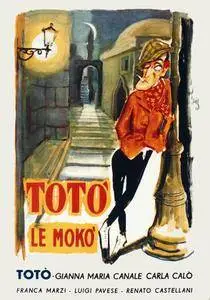 Totò le Mokò (1949)
A Film by Carlo Ludovico Bragaglia
DVD5 | PAL | 1.78:1 | 4:3 | 720x576 | 01:16:29 | 5% recovery | 3.7 GB
Languages: Italian AC3 1.0 @ 192 Kbps | Subtitles: Italian
DVDRip | AVI | 720 x 528 | Xvid @ 1949 Kbps | 01:16:00 | 5% Recovery | 1.2 GB
Audio: Italian AC3 1.0 @ 192 Kbps | Subtitles: English, Italian (.srt)
Genre: Comedy
Il famigerato capobanda Pepè le Mokò, che ha il suo quartier generale nella Kasbah algerina, viene ucciso in un conflitto a fuoco con la polizia. La sua successione viene offerta ad un suo prossimo parente, Totò, suonatore ambulante napoletano che sognava appunto di poter dirigere una banda musicale.



IMDB



L'offerta di dirigere una banda, ch'egli crede musicale, lo manda in visibilio. Giunto ad Algeri, vuol dirigere un concerto nel maggiore albergo, ma la banda ch'egli dirige è in realtà una banda di malviventi per cui la polizia lo mette alle strette e lo costringe a fuggire. Durante un'incursione della polizia nella Kasbah, Totò, spaventato, si rovescia sulla testa una lozione miracolosa, che lo rende audace: egli diventa l'idolo della Kasbah ma per piacere alla fanciulla amata dovrà battersi all'ultimo sangue. Un'amante gelosa durante la notte gli taglia i capelli togliendogli così tutto il coraggio. Tuttavia,nel vedersi di fronte il vero Pepè le Mokò, che non è affatto morto, Totò si sente rizzare i capelli sul capo e pieno di audacia si lancia contro l'avversario e lo uccide. Intascata la ricca taglia, se ne ritorna a Napoli, dove potrà dirigere finalmente una vera banda musicale.

Totò le Mokò è un film del 1949 diretto da Carlo Ludovico Bragaglia. La pellicola cita il film Il bandito della Casbah (Pépé le Moko) del 1937 di Julien Duvivier con protagonista Jean Gabin. Il personaggio interpretato da Gianni Rizzo nel film è una sorta di guida turistica della casbah, ispirato a quello dell'ispettore Slimane che con i suoi informatori tenta di catturare Pépé le Moko nel film di Duvivier. Prodotto da Raffaele Colamonici e Umberto Montesi per Forum S.r.L, la pellicola venne girata nella primavera del 1949, per uscire in prima proiezione pubblica il 20 dicembre 1949.

Storyline
The mobster Pep le Mok dies during a shootout with the police. His gang decide that his successor will be a relative of his from Naples: Antonio Lumaconi, a street musician.

Extra Features:
- Trailer
GENERE: Comico, Commedia
ANNO: 1949
REGIA: Carlo Ludovico Bragaglia
ATTORI: Totò, Gianna Maria Canale, Carlo Ninchi, Carla Calò, Franca Marzi, Elena Altieri, Luigi Pavese, Mario Castellani, Enzo Garinei, Armando Migliari, Gianni Rizzo, Marcella Rovena, Flora Torrigiani, Riccardo Rioli, Guglielmo Leoncini, Luigi A. Garrone, Bruno Cantalamessa, Ciro Berardi
PAESE: Italia
DURATA: 90 Min
FORMATO: 35 MM
DISTRIBUZIONE: FORUM - SKEMA, AZZURRA HOME VIDEO, FORMULA HOME VIDEO, SAN PAOLO AUDIOVISIVI
General
Complete name : D:\VIDEO_TS\VTS_01_0.IFO
Format : DVD Video
Format profile : Program
File size : 56.0 KiB
Duration : 1h 16mn
Overall bit rate mode : Variable
Overall bit rate : 100 bps

Video
ID : 224 (0xE0)
Format : MPEG Video
Format version : Version 2
Duration : 1h 16mn
Bit rate mode : Variable
Width : 720 pixels
Height : 576 pixels
Display aspect ratio : 4:3
Frame rate : 25.000 fps
Standard : PAL
Compression mode : Lossy

Audio
ID : 128 (0x80)
Format : AC-3
Format/Info : Audio Coding 3
Duration : 1h 16mn
Channel(s) : 1 channel
Sampling rate : 48.0 KHz
Compression mode : Lossy
Language : Italian

Text
ID : 32 (0x20)
Format : RLE
Format/Info : Run-length encoding
Bit depth : 2 bits
Language : Italian


[ About file ]

Name: Toto.Le.Moko.1949.iTALiAN.DVDRip.AC3.XViD.avi
Date: Fri, 11 Aug 2017 19:09:47 +0200
Size: 1,235,243,194 bytes (1178.019709 MiB)
Note: Analysis not complete

[ Generic infos ]

Duration: 01:16:29 (4589.16 s)
Container: AVI
AVI has index: Yes
Total tracks: 2
Track nr. 0: video
Track nr. 1: audio
ILNG: Non definita
INAM: Toto.Le.Moko.1949.iTALiAN.DVDRip.AC3.XViD

[ Relevant data ]

Resolution: 720 x 528
Width: multiple of 16
Height: multiple of 16

[ Video track ]

FourCC: XVID/XVID
Resolution: 720 x 528
Frame aspect ratio: 15:11 = 1.363636
Pixel aspect ratio: 1:1 = 1
Display aspect ratio: 15:11 = 1.363636
Framerate: 25 fps
Total frames: 114,729
Stream size: 1,118,555,648 bytes (1066.737793 MiB)
Bitrate: 1949.909174 kbps
Qf: 0.205167
Key frames: 722 (0; 7; 8; 9; 10; … 114641)
Null frames: 0
Min key int: 1
Max key int: 255
Avg key int: 158.904432
Delay: 0 ms

[ Audio track ]

Audio tag: 0x2000 (AC3)
Channels: 1
Chunks: 143,410
Stream size: 110,138,880 bytes (105.036621 MiB)
Bitstream type (bs): AC3
Bitrate (bs): 192 kbps CBR
Sampling frequency (bs): 48000 Hz
Mode (bs): mono
Preload: 0 ms (1 video frames)
Max A/V diff: 40 ms
Delay: 0 ms

[ Video bitstream ]

Bitstream type: MPEG-4 Part 2
User data: Lavc57.25.0
QPel: No
GMC: No
Interlaced: No
Aspect ratio: Square pixels
Quant type: H.263

[ Profile compliancy ]

Selected profile: MTK PAL 6000
Resolution: Ok
Framerate: Ok
If you like this movie please support Developer / Publisher and BUY it.
Click HERE for others DVD
>>> Toto Movie Collection - Raccolta Film di Totò <<<
Please DO NOT MIRROR
If you'll find that my links are dead please let me know through the Private Messages.
>>> Visit My Blog Here <<<
Subscribe to My Newsletter!

Password:
video