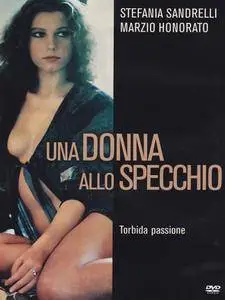 Una donna allo specchio (1984)
A Film by Paolo Quaregna
DVD5 | PAL | 1.78:1 | 16:9 | 720x576 | 01:23:44 | 5% recovery | 3.2 GB
Languages: Italian 2.0 @ 224 Kbps | Subtitles: Italian
Genre: Comedy
Dalla città del Sud, in cui lavora, Fabio torna alla natia Ivrea, per prendere parte (come ha sempre fatto) ai tre giorni di carnevale, durante la tradizionale festa locale. Nella città Fabio incontra Manuela, giovane come lui, in vacanza da sola e vogliosa di evasione. L'incontro porta a tre giorni di amore insensato e sfrenato, di scoperte e di confessioni: i due sanno perfettamente che si lasceranno ed anche questo li spinge ad abbandonarsi completamente in una "trasgressione" totale. Ma anche il gioco degli "aranceri" di Ivrea ha un termine. Fabio e Manuela lasciano la città, ognuno per la propria strada, con il solo bagaglio di una nuova esperienza acquisita.



IMDB






Ma anche il gioco degli "aranceri" di Ivrea ha un termine. Fabio e Manuela lasciano la città, ognuno per la propria strada, con il solo bagaglio di una nuova esperienza acquisita.




Fabio e Manuela si conoscono in occasione del pittoresco carnevale d'Ivrea e danno inizio ad un'intensa relazione erotica. L'incontro porta a tre giorni di amore insensato e sfrenato, di scoperte e di confessioni: i due sanno perfettamente che si lasceranno e questo li porta alla ricerca di trasgressione più totale. Ma anche la battaglia a colpi di arance ha un limite: Fabio e Manuela lasceranno la città per tornare alle proprie vite, consapevoli di un nuovo bagaglio di esperienze acquisite.




Una donna allo specchio è un film del 1984 di Paolo Quaregna, con Stefania Sandrelli e Marzio Honorato che è stato girato interamente a Ivrea durante i giorni di carnevale.




Storyline
A couple meet during the Carnival in Ivrea (a little town in northern Italy), feel drawn to each other and have a torrid affair destined not to last long.

Extra Features:
- None in this release
GENERE: Commedia
ANNO: 1984
REGIA: Paolo Quaregna
ATTORI: Marzio Onorato, Stefania Sandrelli, Dina D'Isa, Emilio Lo Curcio, Patrizia Iannutolo Giangrand, Sabrina Marsili, Paolo Quaregna, Franco Oliviero, Giovanni Moretti, Ottavio Marcelli, Elio Micheli, Barbara Dolza, Guido Merlo, Sergio Danieri, Alfredo Dori, Alberto Signetto, Clara Zini
SCENEGGIATURA: Paolo Quaregna, Fabio Carlini, Barbara Alberti
FOTOGRAFIA: Claudio Cirillo
MONTAGGIO: Antonio Siciliano
MUSICHE: Gino Paoli
PRODUZIONE: ENZO GALLO, LELLO SCARANO PER FILM INTERNATIONAL COMPANY, GRANDANGOLO SOCIETA' COOPERATIVA
DISTRIBUZIONE: GAUMONT - GENERAL VIDEO, PANARECORD
PAESE: Italia
DURATA: 93 Min
FORMATO: PANORAMICO
General
Complete name : VTS_01_0.IFO
Format : DVD Video
Format profile : Program
File size : 50.0 KiB
Duration : 1h 23mn
Overall bit rate mode : Variable
Overall bit rate : 82 bps

Video
ID : 224 (0xE0)
Format : MPEG Video
Format version : Version 2
Duration : 1h 23mn
Bit rate mode : Variable
Width : 720 pixels
Height : 576 pixels
Display aspect ratio : 16:9
Frame rate : 25.000 fps
Standard : PAL
Compression mode : Lossy

Audio
ID : 128 (0x80)
Format : AC-3
Format/Info : Audio Coding 3
Duration : 1h 23mn
Channel(s) : 2 channels
Sampling rate : 48.0 KHz
Compression mode : Lossy
Language : Italian

Text
ID : 33 (0x21)
Format : RLE
Format/Info : Run-length encoding
Bit depth : 2 bits
If you like this movie please support Developer / Publisher and BUY it.
How use .REV files CLICK HERE
Click HERE for others DVD
Please DO NOT MIRROR
If you'll find that my links are dead please let me know through the Private Messages.
>>> Visit My Blog Here <<<
Subscribe to My Newsletter!

Password:
video