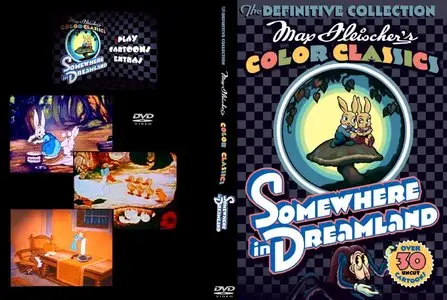 Max Fleischer's Color Classics: Somewhere in Dreamland (1934-1941)
2xDVD9 | VIDEO_TS | NTSC 4:3 | 270 mins | 7,44 Gb + 7,75 Gb
Audio: English AC3 2.0 @ 192 Kbps + Commentary track | Subs: None
Genre: Animation, Cartoon, Family, Classics
This comprehensive collection of Max Fleischer cartoon masterpieces presents over 30 rarely seen Technicolor animated shorts, produced during the golden age of animation. Fleischer created the "Color Classics," a twisted collection of musical cartoons, to showcase his patented "Stereo-optical Process" that created the illusion of depth by animating his characters over three-dimensional, live action backgrounds. In this special digital picture and sound restoration, you"ll discover a menagerie of wonderfully bizarre new characters and a massive dose of the Fleischers" surreal humor.
Highlights include "Greedy Humpty Dumpty," "The Cobweb Hotel," "Ants In The Plants," and "The Fresh Vegetable Mystery." Featured are two Academy Award Cartoon Short Subject nominees " "Educated Fish" (1937) and "Hunky and Spunky" (1938) " as well as famed Fleischer femme fatale Betty Boop ("Poor Cinderella") and Grampy ("Christmas Comes But Once A Year"), and a potpourri of great song cartoons such as "Dancing On The Moon," "Hold It," "An Elephant Never Forgets," and "Small Fry." This collection is a dream come true for cartoon aficionados and Fleischer fanatics, young and old alike! Animated characters: BETTY BOOP, GRAMPY, HUMPTY DUMPTY, HUNKY and SPUNKY and more!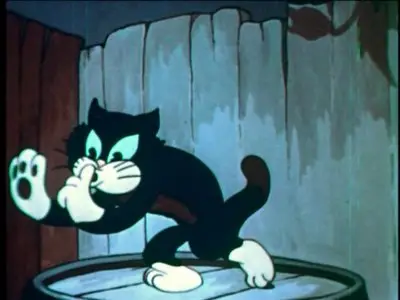 Before Disney became Disney and took over the entire universe, there was Max Fleischer and his Rotoscope which allowed animation to be done much faster and more efficiently than ever before – and it also looked a lot slicker and a lot more fluid. He and his brother Dave used Max's invention to start up their own animation studio that was miles ahead of the still fledgling competition in those days, and thus was born the Fleischer Studio's body of work, represented in part by this collection of Color Classics. Not surprisingly the films in this collection, which were created between 1936 and 1941, all feature synchronized sound and are all in full color.




Many of the work that Fleischer was responsible before hand was in black and white and sometimes silent but by this time things were advanced enough that cartoons effectively came to life through Fleischer's new Stereoscopic method which blended traditional cell animation with 3-D live action background sets. The results were pretty interesting in that the sets actually move and the characters are able to wander around and even interact with them in a limited capacity.




Highlights from the collection include Dancing On The Moon, where a newly wed pair of cats try to take a rocket trip to the moon for an evening of dancing – of course it doesn't go right and the husband ends up leaving his wife on the earth all by herself but, like in most Fleischer cartoons, he tries to make amends for it. The Hunky And Spunky shorts tell the tales of two donkeys, a parent and a child, who have a penchant for getting into trouble but always seem to find their way out just in the nick of time.




The first of the Color Classics is Poor Cinderalla, which features an appearance by a red haired Betty Boop and tells the story of a girl who makes it to the ball despite the odds which are definitely stacked against her. Hawaiian Birds is a really cute one that follows a bird who is dumped by his girlfriend in favor of an Oriele from the big city. He's bound and determined to find her so he sets out on his own to look for her but big city life isn't something he's accustomed to…




Educated Fish and Small Fry both tell stories about undersea schools for fish and the trouble makers that attend. In the first short the school teacher tries to teach the children an import ant lesson about hooks, and in the second one, the title character skip school to prove his worth by hanging out with the big fish at the pool hall. Both shorts are a great example of the type of morals that can usually be found throughout this material, and the sense of optimism that permeates the cartoons despite their sometimes grim subject matter. Speaking of which, Song Of The Birds is a completely track cartoon in which a mean little boy with a pellet gun shoots down a baby bird who is just learning to fly. The cartoon shows it all from start to finish and as silly as it sounds, the grieving process that the bird's family goes through is sincerely heart breaking.




VCI deserves some credit for assembling a great collection of old cartoons for this two disc release. It's a shame that better elements weren't made available but at least what we've got here is serviceable. Somewhere In Dreamland proves to be a completely charming assembly of animated fun that's worth checking out.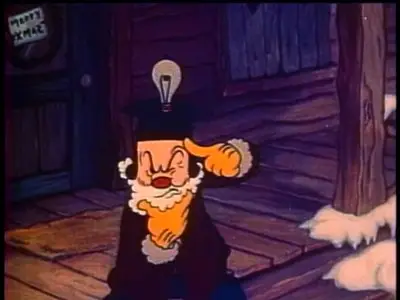 Disc 1:
Betty Boop in Poor Cinderella
Little Dutch mill
An Elephant never forgets
The song of the birds
Dancing on the moon
Somewhere in dreamland
The little stranger
The cobweb hotel
Greedy Humpty Dumpty
Hawaiian birds
Play safe
Christmas comes but once a year
Bunny mooning
Chicken a la king
A caricature portrait
Peeping penguins

Disc2:
Educated fish
Little lamby
Hold it
Hunky and Spunky
All's fair at the fair
Playful polar bears
Hunky and Spunky in Always kickin'
Small fry
Barnyard brat
Fresh vegetable mystery
Little lambskins
Ants in the plants
A kick in time
Snubbed by a snob
You can't shoe a horse fly.
Special Features:
Disc 1:
- Audio commentary by animation historian Jerry Beck

Disc 2:
- Audio commentary by animation historian Jerry Beck
- Rare production artwork still frame gallery
- 'Lost Episodes' - a documentary about the Fleischer studio. It includes four uncut ultra-rare cartoons: The Kids In the Shoe, Time For Love (the only known copy in existence is this black & white version), Musical Memories and Vitamin Hay (starring Hunky and Spunky) (~31 mins)
All Credits goes to Original uploader.