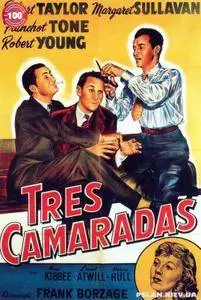 Three Comrades (1938)
DVD5 | ISO+MDS | NTSC | 4:3 | 720x480 | 4800 kbps | 4.1Gb
Audio: #1 English AC3 2.0 @ 192 kbps
01:38:00 | USA | Drama, Romance
A love story centered around the lives of three young German soldiers in the years following World War I. Their close friendship is strengthened by their shared love for the same woman who is dying of tuberculosis.
Director: Frank Borzage
Cast: Robert Taylor, Margaret Sullavan, Franchot Tone, Robert Young, Guy Kibbee, Lionel Atwill, Henry Hull, Charley Grapewin, Monty Woolley, Ricca Allen, Stanley Andrews, Jessie Arnold, Barbara Bedford, Walter Bonn, Henry Brandon, Ralph Bushman, George Chandler, Spencer Charters, St. Luke's Episcopal Church Choristers, Harvey Clark, Roger Converse, Jules Cowles, Adolph Faylauer, William Haade, Donald Haines, C. Hamilton, Art Howard, Alva Kellogg, Paul Kruger, Priscilla Lawson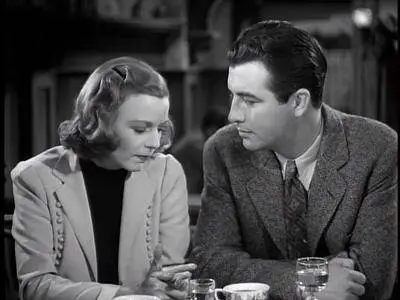 Extras:
- Trailer
In the early sound era, one of the most respected directors in Hollywood was Frank Borzage: in fact, he won the very first Academy Award for Best Director (and would win a second one five years later). Yet his work is now virtually unknown. THREE COMRADES came during his tenure at MGM, where he would stay for the next five years (previously, he had been one of the star directors at Fox, and then worked at Columbia and Warner Brothers); it reunited him with Margaret Sullavan, with whom he had worked on LITTLE MAN WHAT NOW in 1934, and it would represent the only official screen credit for F. Scott Fitzgerald. There are moments (especially in the romance between the poor aristocrat Patricia and the young mechanic Erik) in which you can hear the lilt and romanticism of Fitzgerald's sensibility. THREE COMRADES was one of those movies that played a lot of television in late 1950s-early 1960s, and the moving story of three comrades (played by Robert Taylor, Robert Young and Franchot Tone) and the young woman who enters their lives (played by the great Sullavan, in her Academy Award-nominated performance) trying to find some solace and happiness in the rubble of Germany in the period immediately following the first World War is remarkably touching. Though often criticized for the (many) compromises that went into the making (this was a major studio production in 1938, beset with all the production code and commercial considerations of the era), there's still enough of Remarque's powerful story, Fitzgerald's elegant dialog, and Borzage's romanticism (as well as the superb performance by Margaret Sullavan) to make this one of the most memorable American movies of the 1930s.
~ Daryl Chin
IMDb