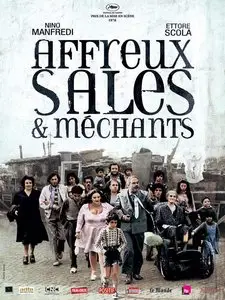 Brutti, sporchi e cattivi [Affreux, sales et méchants] 1976
DVDrip | XviD-1351 | AC3@448 | 712x376 | 2 Audio Tracks: Italian_1 French_2 | Subs: English (srt) French (srt & idx/sub) | DVD Cover & Sticker | 1h51 | 1.8 Gb
Comedy, Drama | Italy 1976 (2011 Restored Full Version) | Director Ettore SCOLA († 19.01.2016)
Con/Avec Nino Manfredi, Linda Moretti, Francesco Annibaldi, Ettore Garofalo
Il film racconta la vita quotidiana di una famiglia di una baraccopoli romana degli anni '60, una tribù di circa venti persone tra genitori, figli, consorti, amanti, nipoti e nonna. A capo di tutti c'è il vecchio Giacinto Mazzatella (Nino Manfredi): di origine pugliese (di cui conserva il forte dialetto), guercio, dispotico e fedifrago, tratta familiari e vicini al pari delle bestie. Questi possiede un milione di lire, risarcimento dell'assicurazione per aver perso un occhio, ed è ossessionato dal fatto che i parenti glielo possano rubare…
Sa femme, ses dix enfants, les conjoints, les amants et la grand-mère, tous logés sous le même toit, dans un taudis pouilleux. Tous acceptent son autorité et sa mauvaise humeur, car le patriarche acariâtre possède un magot d'un million de lires – reçues en dédommagement après avoir perdu un œil – que chacun espère lui voler. Tandis que Giacinto passe ses journées à se saouler ou à violenter les femmes autour de lui, que la fille tapine dans les rues de Rome, que le fils se travestit en femme, que la grand-mère apprend l'anglais à la télé, que la belle-fille trompe son mari avec le frère de ce dernier, que le petit fils chasse les rats morts, on prépare en cachette l'assassinat de Giacinto…
The film tells the grotesque story of a large family living in an extremely poor shantytown of the periphery of Rome. The main protagonist is one-eyed patriarch Giacinto (Manfredi). Four generations of his sons and relatives are cramped together in his shack, managing to get by mainly on thieving and whoring, among other things more or less respectable.
IMDB
More info (Italian)
For the Frenchies
DVD info + trailers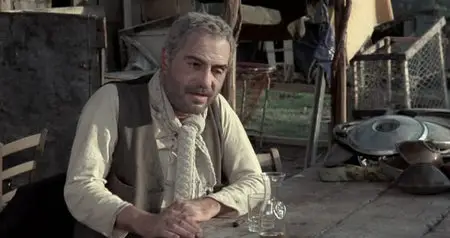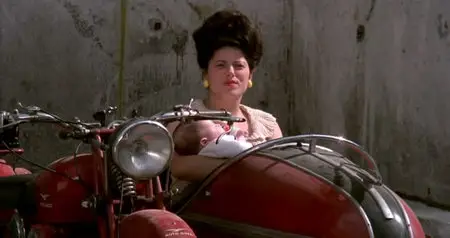 Screenshots with MPC (click to enlarge)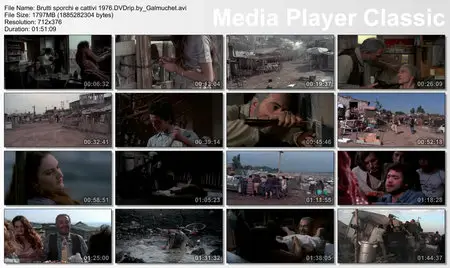 >More subtitles (srt)<
Click –-> Galmuchet blog
NOTE for the Frenchies:
Dans une précédente version DVD, le film est amputé d'une séquence assez « gore » montrant la famille réunie autour de la mère, en train de découper des abats (cœur, foie, poumons) de bœuf. C'est là que la famille prend la décision d'assassiner Giacinto. Ce passage existe en revanche dans le DVD édité par Carlotta en 2011.