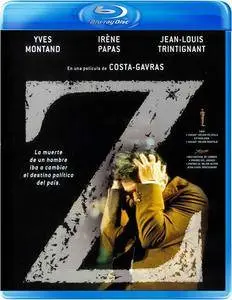 Z (1969)
BDRip 1080p | MKV | 1792 x 1080 | x264 @ 17,4 Mbps | 2h 1mn | 15,52 Gb
Audio: Français FLAC 2.0 @ ~800 Kbps | Subs (embedded): English, Français
Genre: Crime, Drama, Thriller | Director: Costa-Gavras
A pulse-pounding political thriller, Greek expatriate director Costa-Gavras's Z was one of the cinematic sensations of the late sixties, and remains among the most vital dispatches from that hallowed era of filmmaking. This Academy Award winner – loosely based on the 1963 assassination of Greek left-wing activist Gregoris Lambrakis – stars Yves Montand as a prominent politician and doctor whose public murder amid a violent demonstration is covered up by military and government officials; Jean-Louis Trintignant is the tenacious magistrate who's determined not to let them get away with it. Featuring kinetic, rhythmic editing, Raoul Coutard's expressive vérité photography, and Mikis Theodorakis's unforgettable, propulsive score, Z is a technically audacious and emotionally gripping masterpiece.
IMDB
- Won 2 Oscars + Another 10 wins
When the preview of "Z" was shown at the Oscars, it received a standing ovation. I didn't know why until I saw the movie. The Oscar forced it to be shown in the United States. At the time, the US backed the military government in Greece. The totalitarian government represented a stand against communism. This movie depicts the true story of a beloved olympic athlete who became a doctor and began speaking out against his Greek government. For that, he was murdered. This is about a brave investigator who begins to search for the origin of the orders to have the doctor killed.

It leads to the downfall of a country. Mikis Theordorakis wrote the music from house arrest in Greece and it was smuggled out to be placed on the film. Yves Montand played the lead role and was blacklisted from getting a US Visa for his participation until some strings were pulled and he was allowed a 24 hour visa, to be extended each 24 hours in order to allow him to film "On A Clear Day You Can See Forever". At the end of filming,that night he made a surprise appearance on Johnny Carson's Tonight Show. He told the story about "Z" and commented that he was in the care and custody of US Immigration and the FBI. The camera panned right and a dark suited man slid quickly behind the curtain. He apologized for his abruptness, but his visa expired at midnight and he had to get to the airport. When I saw these things, I was shocked my government would take a movie so seriously. When it showed up in an obscure movie theater in Houston, I had to go. I was the only person buying a ticket just after noon that day. Upon entering the theater, a dark suited man was sitting in the lobby. I walked into theater and then stuck my head back out to see what the only other individual in the theater was doing. He was stepping away from the ticket booth. I watched as he walked the short distance to my car, took out a notebook and wrote in it while looking at my license plate. This is how it happened. It was 1969. J. Edgar Hoover had stated publicly that no truly loyal American would pay money to see such a movie. It was unpatriotic. Newspaper articles that spring reported it.

Watch this movie and consider the importance "entertainment" can have on government, media, and yourself.


IMDB Reviewer
(Enlargeable)