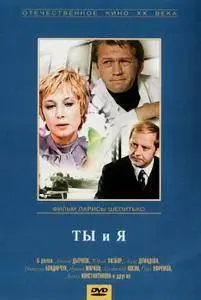 You and Me (1971)
DVDRip | AVI | 704x528 | DivX @ 1931 Kbps | 91 min | 1,37 Gb
Audio: Русский AC3 2.0 @ 192 Kbps | Subs: English (srt)
Genre: Drama
Director:
Larisa Shepitko
Writers:
Gennady Shpalikov, Larisa Shepitko
Stars:
Leonid Dyachkov, Yuriy Vizbor, Alla Demidova
Came very close to opening in neurosurgery, from which depended the salvation of many people, the protagonist of the film (Peter) throws scientific work and his best friend and colleague of the experiment. Went to Sweden. After many years of dissatisfaction compels him to drop everything and go back to Moscow, where he was not welcome and do not take in the scientific community, and the best friend refuses to help, despite the pleas of his wife Petra. Numerous meetings with different people does not help him to find the courage and overcome yourself. He never returned to the once abandoned scientific work.
Let's out with it: not counting a diploma film, shorts, and TV work, this woman made only three films before her death, and on the strength of them feels like a major filmmaker. If one looks at these three films they are absolutely opposed to any kind of Soviet optimism: Shepitko's characters are lonely, sick, afraid, cracking up. Especially in YOU AND I, crack, crack, crack. The main character is a medical researcher who's been falling to pieces for some time. He returns to Moscow from a job in Sweden two years after he departed without really telling anyone, to a wife and friend who don't know how to handle him. Soon he's off again, this time on a train on a whim, where he ends up in Siberian boonies, doctor for the local laborers. Meanwhile the wife - who's already waited two years for the guy - and his friend get closer… As with WINGS, Shepitko's greatest film, the story itself is no great shakes - it's the technique that makes it sublime. The director is a great one for details, telling moments, weighty bits of conversation. But more than that she has a simply gorgeous sense of rhythm. YOU AND I, had it been just functionally edited, would have been quite bad. Shepitko's transitions - from place to place, time to time (the movie's liberally laced with flashbacks) - feel absolutely right, the film is poetic and moving.
(click to enlarge)

More in My Blog