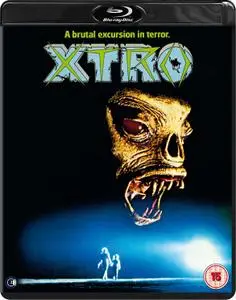 Xtro (1982) + Extras
Original Ending / Alternate Ending / UK Video Version / 2018 Director's Version
BDRip 720p | MKV | 1280 x 720 | x264 @ 2560 Kbps | 1h 26mn | 1,63 Gb/1,65 Gb/1,65 Gb/1,67 Gb
Audio: English AC3 1.0 @ 160 Kbps | Subtitles: English (embedded)
Genre: Horror, Sci-Fi | Director: Harry Bromley Davenport | Extras: 1,62 Gb
Family man Sam Phillips (Philip Sayer) has been missing for three years when he suddenly returns home to his son, Tony (Simon Nash), and wife, Rachel (Bernice Stegers). Though Tony has clung to the hopes of his father's return, his mother has moved on and is involved with another man. Rachel still has a place in her heart for her husband, but the love triangle is rudely interrupted when it becomes apparent that Sam's disappearance was the result of an alien abduction, and he's no longer human.
(Enlargeable)

Versions:
– The Film: Original Ending (86:01)
– The Film: Alternate Ending (86:50)
– The Film: UK Video Version (85:41)
– The Film: 2018 Director's Version (86:48)
The following versions of the film are known:
-A shorter version, missing on the following scenes:
–A brief scene of Mrs Goodman saying "I'm coming, I'm coming" as she opens the door to reveal the giant Action Man.
–Extended dialogue during the scene where Joe talks to his budgerigar at his photography studio.
–An entire scene where Rachel & Sam visit their old house (the site of the abduction). Rachel enters the house alone and states that "Someone has been here", before opening the window to remove the smell of gas.
-A longer version including the previous scenes.
-An original ending version in which Bernice arrives home to find the bathroom full of alien eggs. As she goes to have a closer look, one cracks open and an alien "sucker" device (same as the one that came out of the Alien who attacked the blonde woman near the beginning of the film) bursts out off the egg and clamps over her mouth.
-An happy ending version in which Bernice arrives home to find the house filled with exact doubles of her son (which have presumably hatched from the eggs shown earlier in the film) which all say "mummy" as she enters the room.
Extras:
– "Xploring Xtro" documentary (56:52)
– "The World of Xtro" featurette (27:20)