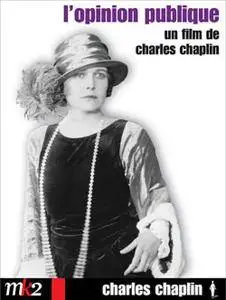 A Woman of Paris: A Drama of Fate (1923)
BRRip 720p | MKV | 960 x 720 | x264 @ 1925 Kbps | 1h 21mn | 1,19 Gb
Score AC3 2.0 @ 160 Kbps with English intertitles
Genre: Drama, Romance | Director: Charles Chaplin
Marie St. Clair believes she has been jilted by her artist fiance Jean when he fails to meet her at the railway station. She goes off to Paris alone. A year later, mistress of wealthy Pierre Revel, she meets Jean again. Misinterpreting events she bounces back and forth between apparent security and true love. Also misinterpreting, Jean commits suicide.
Charles Chaplin is noted for his comedy performances, and deservedly.
His direction, though, should be more highly regarded, if only for this one motion picture.
Compare the quality of the photography and the smoothness of the editing to, for example, "The Gold Rush," of about the same time.

"A Woman of Paris" is very modern; "The Gold Rush" is downright primitive (but, in spots, brilliant).

"A Woman of Paris" also shows some admirable acting talent in, really, all the players. Some of the lesser characters are still played beautifully, despite being "lesser," especially Marie's maids and her, more or less, friends, and very especially the masseuse. And the scene where the artist's mother, played by Lydia Knott, bent on revenge, comes upon Marie – with no words, just body movement and facial expression – she tells the audience what the proverbial thousand words could not so well.

Credit for part of that good acting must, of course, go to the director, but even the best director can't make much of poor actors. Chaplin had very good actors. Adolphe Menjou reached stardom, and deservedly. What a tremendous talent; he could do everything. Edna Purviance should have achieved much more acclaim. She performed admirably, especially in this movie, and she was attractive. Fame is certainly fickle.

In some ways, "A Woman of Paris" might be written off by a few as "soap opera." But it is well worth watching for the performances and, especially, for the directing.
(Enlargeable)