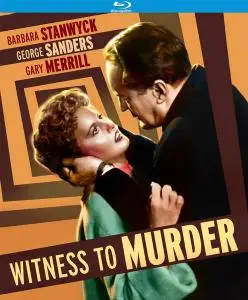 Witness to Murder (1954)
English | BRRip | MKV | 1008x576 | AVC @ 2800 kb/s | 1.86 GB
Audio: AC-3 @ 448 kb/s | 2 channels | 01:21:59 minutes
Genre: Drama, Film-Noir, Crime
Cheryl Draper (Barbara Stanwyck) witnesses a murder in the apartment opposite her bedroom window. The police come, but discover only a respectable author, Dr. Richter (George Sanders). Cheryl investigates anyway, with some encouragement from a homicide lieutenant (Gary Merrill), and finds some corroborating, but inconclusive, evidence. Richter first tries to label Cheryl as mentally-unbalanced. When that fails, he decides to kill her. The plot of this small thriller has obvious similarities to Rear Window, but it is realized in a totally different, quite satisfying manner, due to top-notch performances by Stanwyck and Merrill.