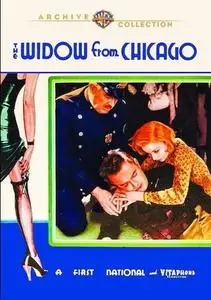 The Widow from Chicago (1930)
DVDRip | MKV | 720x480 | x264 @ 2193 Kbps | English AC3 2.0 @ 192 Kbps | 62 min | 1,06 Gb
Genre: Crime, Drama, Romance
Director
: Edward F. Cline (as Edward Cline)
Writers
: Earl Baldwin, Earl Baldwin (dialogue)
Stars
: Alice White, Edward G. Robinson, Neil Hamilton
Vice lord Dominic has brought Swifty Dorgan east to do a job for him. When Swifty appears to have died falling from a train, detective Henderson impersonates him hoping to get into the mob. When he's killed his sister Polly poses as Swifty's widow and gets a singing job at Dominic's nightclub. Then the real Swifty shows up.
Alice White stars in this 1930 crime drama that also boasts an early starring role for Edward G. Robinson. He plays a nightclub owner and bootlegger; she plays the widow. She shows up in his club looking for work and claiming to be the widow of a gangster (Neil Hamilton) who was killed when he jumped off a train in an attempt to escape the cops. In reality she's the sister of the cop who was tracking Hamilton. Now she's out to track down her brother's killer.

Smart dialog and solid story here with White in a slightly different role. Although she masquerades as a floozie she's really a pretty smart cookie as she leads to police to her brother's killer. Although the setting is a nightclub, White does not do a musical number (perhaps cut from the final print?) as she usually does in her talkies.

Although White was not an actress in the way Bette Davis or Joan Crawford were, she's got a great screen presence and holds her own here in scenes with the great Robinson. Hamilton is also solid as the undead gangster who returns to cause problems for White.

Co-stars include Frank McHugh, Harold Goodwin (as the brother), Betty Francisco, Brooks Benedict, and Anne Cornwall and Dorothy Mathews as the dance hall babes.

Worth a look.
(click to enlarge)

More in My Blog