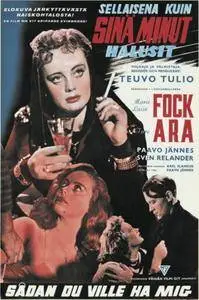 The Way You Wanted Me (1944)
DVDRip | MKV | 704x576 | x264 @ 2000 Kbps | 103 min | 1,58 Gb
Audio: Suomi AC3 1.0 @ 192 Kbps | Subs: English, Suomi, Svenska
Genre: Drama
Director:
Teuvo Tulio
Writer:
Nisse Hirn (as Filmimies)
Stars:
Marie-Louise Fock, Ture Ara, Kunto Karapää
A girl who moves to the city after her fiancé lacks the courage to face his father, who is against their relationship. In the city the girls winds up being abused by men, giving birth to a child and supporting herself on prostitution.
The strains of a familiar folk song send a haggard street-walker down the corridors of reverie to trace her long downward path. From her beginnings as a fresh-faced country girl in the joy of first love to her miserable decline, the men who loved her, betrayed her, or tried to aid her are examined one by one and the ironic twists of fate that snatched happiness from her grasp are laid bare. Like 1937's Stella Dallas, Maija is a proud and strong woman who does the only thing she can do to support her daughter in a world that is stronger than she is, where women are "prisoners… like fish in a net." It's not a happy story but it is well-told. My first thought on seeing the opening moments of this film was that they don't shoot movies like that any more. It is not always sophisticated and the technique owes much to expressionist European films of years before - at times it seems more like 1924 than 1944. The scenes of her early days resemble Soviet films with their healthy peasants dancing under big skies. For me the background music was the weakest point, not always entirely appropriate to the mood of the scene, but the overall effect is strongly emotional and at times quite beautiful and stirring. It was interesting for me to think of how certain events and scenes would be done very differently if the same story had been made in Hollywood - it is refreshing to see a more bluntly realistic depiction than the cleaned up, smoothed over American version would have been, and a more stylized and symbolic presentation of strongly emotional events that hearkens back to silent picture style. For fans of genuine old time melodrama, or for those with an eye for sincere unsophisticated yet effective filmmaking, this can be a very enjoyable experience.
(click to enlarge)

More in My Blog