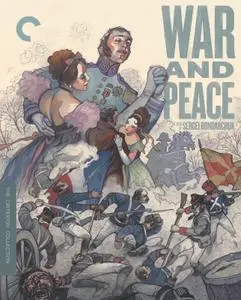 War and Peace / Voyna i mir / Война и мир (1966) [Criterion Collection, Spine #983]
BDRip 720p | MKV | AVC, 1280x544, ~ 2.5 Mbps | ~ 422 minutes | ~ 8,9 GB
Russian (Русский): AC3, 6 ch, 448 kbps | Subtitles: English
Genre: Drama, History, Romance
IMDB Rating: 7.9/10 (5.520 votes)
Director:
Sergey Bondarchuk
Writers:
Sergey Bondarchuk, Vasiliy Solovyov
Stars:
Lyudmila Saveleva, Vyacheslav Tikhonov, Sergey Bondarchuk
Country:
Soviet Union (Россия)
At the height of the Cold War, the Soviet film industry set out to prove it could outdo Hollywood with a production that would dazzle the world: a titanic, awe-inspiring adaptation of Leo Tolstoy's classic tome in which the fates of three souls—the blundering, good-hearted Pierre; the heroically tragic Prince Andrei; and the radiant, tempestuous Natasha—collide amid the tumult of the Napoleonic Wars. Employing a cast of thousands and an array of innovative camera techniques, director Sergei Bondarchuk conjures a sweeping vision of grand balls that glitter with rococo beauty and breathtaking battles that overwhelm with their expressionistic power. As a statement of Soviet cinema's might, War and Peace succeeded wildly, garnering the Academy Award for best foreign-language film and setting a new standard for epic moviemaking.
Extras:
- None