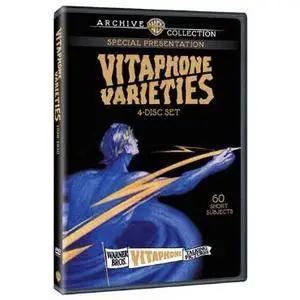 Vitaphone Varieties (1926-1930)
DVD Video, 3 x DVD9 + DVD5 | 547 minutes | NTSC 4:3 | 720x480 | 23.2 Gb
English: Dolby AC3, 2 ch
Subtitle: None
Genre: Comedy, Musical, Shorts
Amazon.com
These and other great performers and ensembles from the Warner Bros. vault comprise a dazzling 9+-Hour, 4-Disc Collection of 60 Theatrical Shorts (1926-1930) that reach across the footlights - and decades - to delight new generations. Vitaphone Varieties is an endlessly entertaining blast from the past.
The shorts in this archive collection are:
Disc One:
- The Revelers
- The Morrisey and Miller Night Club Review
- Colin and Glass in "Sharps and Flats"
- Earl Burtnett and His Biltmore Hotel Orchestra
- Val and Ernie Stanton in "Cut Yourself a Piece of Cake"
- Brown and Whitaker in "A Laugh Or Two"
- Jimmy Clemons in "Dream Cafe"
- Bert Swor in "A Colorful Sermon"
- Gladys Brockwell in "Hollywood Bound"
- Jay C. Flippen in "The Ham What Am"
- Harry J. Conley in "The Book Worm"
- Dora Maughan with Walter Fehl in "Song Impressions"
- Henry B. Walthall in "Retribution"
- Dick Rich and His Synco-Symphonists
- Montague Love in "Character Studies"
- Kjerulf's Mayfair Quintette in "A Musical Melange"
- Val Harris with Ann Howe in "The Wild Westerner"
Disc Two:
- Eddie White in "I Thank You"
- Marlowe and Jordan in "Songs and Impressions"
- Val and Ernie Stanton in "English as She in Not Spoken"
- Jack Waldron in "A Breath Of Broadway
- Florence Brady in "A Cycle Of Songs"
- Earl Burtnett and His Biltmore Hotel Orchestra
- Mitchell Lewis in "The Death Ship"
- Al Lyons and His Four Horsemen in "My Musical Melange"
- Robert Emmet Keane in "Gossip"
- Born and Lawrence in "The Country Gentlemen"
- The Rangers in "After the Round-Up"
- Arthur Pat West in "Ship Ahoy!"
- Born and Lawrence in "Pigskin Troubles"
- Frank Whitman "That Surprising Fiddler"
- Ann Codee and Frank Orth in "A Bird in the Hand"
- Bud Harris and Frank Radcliffe in "At the Party"
- Harry Fox and His Six American Beauties
Disc Three:
- Fred Ardath in "These Dry Days"
- Jack White with The Montrealers
- Dooley and Sales in "Dooley's The Name"
- Oklahoma Bob Albright and His Rodeo Do Flappers
- Charles C. Peterson, Billiard Champion of Fancy Shots
- Hobart Cavanaugh, Regina Wallace in "Sympathy"
- Mel Klee in "The Prince of Wails"
- Harry Fox and Bee Curtis in "The Bee and the Fox"
- Coletta Ryan and Duke Yellman in "Songology"
- The Gotham Rhythm Boys
- "Poor Aubrey" by George Kelly with Franklin Pangborn, Helen Ferguson, Clara Blandick, Andruth Lyons
- Billy "Swede" Hall and Company in "Hilda"
- "Revival Day" with Slim Timblin
- "Niagara Falls" with Bryant Washington and Helen Jerone Eddy
- John T. Murray and Vivien Oakland in "Satires"
Disc Four:
- Jans and Whalen in "Two Good Boys Gone Wrong"
- Carlena Diamond: Harpist Supreme
- "Trifles"
- Anderson and Graves in "Fishing Around"
- "Surprise" with Tom Dugan and Barbara Leonard
- "What a Life"
- "Thanksgiving Day"
- "Pack Up Your Troubles" with Douglas Stanbury and the Lyric Quartet
- "She Who Gets Slapped" with Tom Dugan
- Betty and Jerry Browne in "Let's Elope!"
- Joe Frisco in "The Songplugger"
Thanks to original uploader