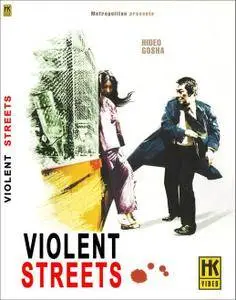 Violent Streets (1974)
DVDRip | MKV | 702x424 | x264 @ 1800 Kbps | 92 min | 1,28 Gb
Audio: Japanese (日本語) AC3 2.0 @ 192 Kbps | Subs: English, French, Russian
Genre: Art-house, Action, Crime, Drama
Violent Streets covers standard yakuza ground: the retired gangster forced back into the crime world. A beef brewing within Tokyo's underworld sets off a series of spectacular violence headlined by some of the genre's best actors: Noboru Ando, Bunta Sugawara, Akira Kobayashi, and Tetsuro Tanba. Gosha's skillful delivery prevents the film from losing any sense of seriousness, even at its most violent.
A first cursory look at VIOLENT STREETS makes it seem that Hideo Gosha reverted back to the programme genre pictures out of which emerged as a bonafide auteur and stylistic visionary five years earlier with bold ambitious jidaigekis like GOYOKIN and HITOKIRI, this time treading ground he never did before in his career, the yakuza picture. Looking closer it becomes obvious that VIOLENT STREETS is both. A genre picture and a stylistic exercise.

Different plot strands with which the avid genre fan will be familiar from prior cinematic knowledge, the rivalry between opposite yakuza groups, the new yakuzas trying to balance their past as street thugs with their future as incospicuous businessmen, the retired gangster forced back into action, a kidnapping gone awry, all these become entangled through a series of increasingly violent fights in the second third of the movie where VIOLENT STREETS inexorably emerges as a poignant revenge/ coming of age story.

What makes it so great is that VIOLENT STREETS remains powerful convincing and successful at all ends of the crime spectrum. As a twisty well oiled heist movie at first, a gritty revenge story, a sad coming of age tale by the end. From the wildly entertaining pure pulp of the first segment emerges a bittersweet humanism and a sense of duty ("some things a man can't ride around") and bonding between alienated male characters pushed on the side by a fast changing world, themes such as one would see in the films of Hellman, Peckinpah, or Boetticher. And to further the Peckinpah connection, Gosha does a few slow-motion shooting scenes that rank up there with the best of Sam's career.

If VIOLENT STREETS is a genre picture, a rollicking pulp extravaganza ultraviolent even to this day (killings are messy and gruelling), it's still done with a certain flair and class, this owing no doubt Gosha's talent that never allows the movie to descend into caricature. It might lack the social undertones of Kinji Fukasaku's best work (another master of crime cinema sorely neglected in the west) but I daresay meets it almost eye to eye for grit and violence.
(click to enlarge)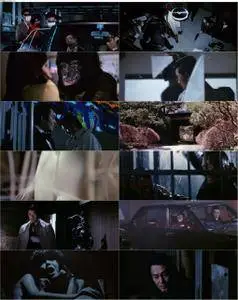 More in My Blog