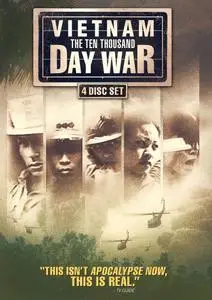 Vietnam – The Ten Thousand Day War (1980) [Part 1]
DVDRip | MKV | 5 x ~ 0hr 25mn | AVC, ~1,8 Mbps | 720x480 | 5 x ~ 400 MB
English: AC3, 2 ch, 224 Kbps
Subtitles: None
Genre: Documentary, History, War | TV Mini-Series
IMDB Rating: 8.5/10 (205 votes)
Country:
Canada
Stars:
Joseph B. Anderson, Anthony Astuccio, Peter Braestrup
Vietnam: The Ten Thousand Day War, a 26-part Canadian television documentary on the Vietnam War, was produced in 1980 by Michael Maclear. The series aired in Canada on CBC Television, in the United States and in the United Kingdom on Channel 4. Maclear visited Vietnam during the production of the series and had access to film material there. He was the first Western journalist allowed to visit that area since the war. The documentary series was consolidated into 13 hour-long episodes for American television syndication. The series was released on videocassette format by Embassy and won a National Education Association award for best world documentary. Series writer Peter Arnett was an Associated Press reporter in Vietnam from 1962 to 1975. CBC aired only 18 of the episodes during the 1980-81 season because the series production was incomplete. The remaining episodes were broadcast during CBC's 1981-82 season. British audiences saw the series during Channel 4's 1984-85 season.
Episodes:-Episode 1. America in Vietnam
This first episode focuses on American involvement in South-East Asia (Indochina) from US support for Ho Chi Minh during World War II. Proceeding through Ho Chi Minhs Declaration of Independence from France in 1945. To the withdrawal of troops and the suspension of air support in '72, and the belated final withdrawal in '75. It closes with President Ford declaring that for Americans, "the war is over"
-Episode 2. France in Vietnam
Episode Two covers the start of the Vietnam War. American support for and training of the Viet Minh, American participation fighting the Japanese occupation. The French Army, against the communist Viet Minh. Ho Chi Minhs plans for the eventual freedom of his country. France's plans to retain it's Indochina colony post WWII with occasional uprisings against it. France's brutal rule over the territory. American indifference and eventual support for France. The US finances 80% of France's war with the Viet Minh.
-Episode 3. Dien Bien Phu
Episode Three, covers the battle of Dien Bien Phu, the final battle in the French Indochina war. Dien Bien Phu is on the northwestern border with Laos, it is just within range of French aircraft which was the only link to the rest of the world. General Giap decides to attack and wipe the french forces out. 55 days later the Vietminh win the battle. 10,000 french troops surrender and only 5,000 survive the march into captivity. French Indochina is dead.
-Episode 4. Early Hopes
Episode Four covers the formation of South Vietnam. Over 1,000,000 people emigrate to the south and only 100,000 emigrate north. Ngo dinh Diem becomes the first elected president of South Vietnam but rules like a dictator. President Eisenhower calls Vietnam a "Bulwark" against communism in Asia. 1959 The north decides to retake the south by military force, and a guerrilla war is launched. Corruption spreads in the south, the government becomes oppressive. By 1963 there are 16,000 "Advisors" leading the S Vietnamese army with more on the way. By the end of 1964 there …
-Episode 5. Assassination
Episode Five, covering Bhuddist complaints of government corruption leading to riots, five monks self-immolate in protest. Henry Cabot Lodge arrives as ambassador to try and restore unity with Washington. Discussions happen between Washington and the Souths military that the US would not stand in the way of a coup. The CIA comes to Vietnam to try to pressure for governmental reforms without influencing any coup. Eventually Washington sends a message approving a coup the generals request confirmation that the US would still support Vietnam if a coup happened, the …