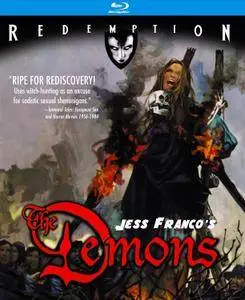 The Demons (1973) + Extras
BRRip 720p | MKV | 1280 x 720 | x264 @ 2048 Kbps | 1h 58mn | 1,83 Gb + 258 Mb
Audio: French AC3 2.0 @ 160 Kbps | Subs: English (embedded)
Genre: Horror, Nunsploitation | Director: Jesús Franco
A group of nun's become possessed by demons and are then tortured in a dungeon of horrors during the inquisition.
The prolific and manic Jess Franco has directed well over 200 films. Some are dire, the majority functional and a few are absolute classics of exploitation cinema. The Demons, Franco's shameless cash in on Ken Russell's the Devils, is a true Franco masterpiece, featuring everything from torture, lesbian sex and demonic possession. The film centres on a witch who is burned at the stake by the inquisition but who, before the flames consume her, manages to curse the principal witch finder and his minions with dire results. What follows is a catalogue of depravity and sexual violence on a truly orgiastic scale while Franco's camera gleefully captures every perverse moment and gratuitous exposure of female flesh! This is a true sleaze epic of Babylonian proportions!
(Enlargeable)

Extras:
- Jess Franco Interview (16:19)