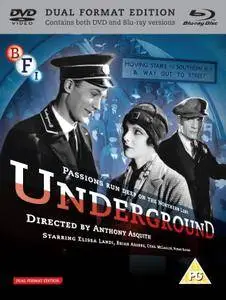 Underground (1928) + Extra
BDRip 720p | MKV | 1280 x 720 | x264 @ 2560 Kbps | English intertitles | 1h 32mn | 2,09 Gb + 382 Mb
2 Music tracks: Score by Neil Brand AC3 5.1 @ 448 Kbps and Score by Chris Watson AC3 2.0 @ 192 Kbps
Genre: Drama | Director: Anthony Asquith
A working-class love story set in and around the London Underground of the 1920s. Two men - gentle Bill and brash Bert - meet and are attracted to the same woman on the same day at the same Underground station. But the lady chooses Bill, and Bert isn't the type to take rejection lightly…
We went to see the newly restored version of Underground tonight, at the British Film Institute. The BFi restoration people have done a magnificent job in making the movie look fresh and vibrant, but the direction by Anthony Asquith is the thing that has really stood the test of time. The plot flows in a simple but effective way, and the actors do a great job in bringing life and soul to a lively London town.

Bill is impossibly clear-eyed and the shining light, Nell is similarly bright and cheerful, but Bert is much more mixed-up, with a mild malevolence that rebounds on him badly, and Kate has some wonderfully dramatic madness late on. The various set pieces are done well and progress things in am undemanding manner.

The new score by Neil Brand and recorded by the BBC Symphony Orchestra is heavenly, it suits the action on the screen to an absolute tee. I really can't think of much I didn't enjoy, the energy of the last denouement of the love dispute is thrilling, and there's a lot of gentle laughter to be hand beforehand.

The fact that the film closed to a round of applause from the audience says a great deal to me. A little peep of a bygone age, when men gave their seat up for women on public transport (when the woman in question actually wanted to sit down of course). Go see and prepare to fill your eyes with a cinematic feast.
(Enlargeable)

Extra:
– "Under Night Streets" short (18:42)