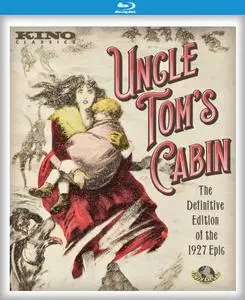 Uncle Tom's Cabin (1927) + Extras
BDRip 720p | MKV | 1280 x 720 | x264 @ 2560 Kbps | 1h 54mn | 2,38 Gb + 3,27 Gb
Score by Ernö Rapée AC3 2.0 @ 192 Kbps with English intertitles + Commentary track
Genre: Drama | Director: Harry A. Pollard
In 1856, slave Eliza (Margarita Fischer) plans to marry George (Arthur Edmund Carew) with the consent of the Shelbys, her masters, but George's owner prevents the wedding. A few years later, Eliza flees with her son, Harry (Lassie Lou Ahern), after learning the Shelbys plan to hand them over to a crooked creditor to prevent foreclosure. George also escapes and goes on the run while Eliza and Harry are captured and brought back home. Mother and son are separated as George tries to find them both.
(Enlargeable)

Audio commentary
by historian Edward J. Blum
Extras:
– "Uncle Tom's Cabin" 1914 film, starring Sam Lucas, preserved by the Library of Congress, music by Andrew Earle Simpson (52:00)
– "Uncle Tom's Cabin" 1910 Vitagraph short, directed by J. Stuart Blackton, preserved by the Library of Congress, music by Andrew Earle Simpson (24:54)
– Complete 1958 re-issue version, introduced and narrated by Raymond Massey (1:31:30)