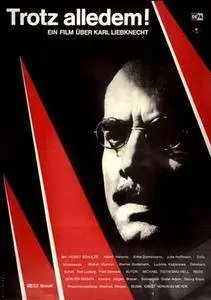 Trotz alledem! / In Spite of Everything (1972)
German | DVDRip | MKV | 716x468 | AVC @ 1800 kb/s | 1.73 GB
Audio: AC-3 @ 192 kb/s | 2 channels | 02:04:07 minutes | Subs: English (hardcoded)
Genre: Drama
In October 1918, Karl Liebknecht is released from prison and Berliner workers prepare him a triumphant reception. The First World War is almost over, the Empire sends in vain its last reserves to the slaughter. The mood in large swathes of the working population is revolutionary. SPD chief Friedrich Ebert wants to bring about the abdication of the Emperor to prevent revolution. But the uprising of Kiel s sailors against war and militarism is a call to revolution led by Liebknecht. On November 9, the workers leader declares the Socialist Republic of Germany from the balcony of Berlin s palace. The Emperor flees. But counter-revolutionaries, pro-empire generals and rightwing Social-Democrats soon treacherously hunt down the Communists and murder its leaders Karl Liebknecht and Rosa Luxemburg. This tense feature film, given five-star reviews, ends with the mourning procession of the Berlin population, a procession that is still held annually to this day.