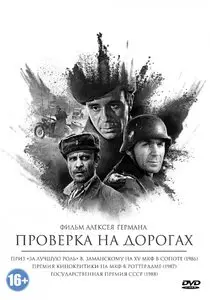 Director:
Aleksey German
Writers:
Yuri German (stories), Eduard Volodarskiy
Stars:
Rolan Bykov, Anatoliy Solonitsyn, Vladimir Zamanskiy
Film is set in the winter of 1942 during the Nazi occupation of Russia in WWII. Partisan guerrillas, headed by Ivan Lokotkov, are testing the POW Lazarev, who briefly collaborated with the Nazis for survival. Lazarev is not executed, but instead he is given a chance to prove his loyalty. He has to go back to the Nazi controlled railway station, where everyone knows him, and to hijack a train with food supplies. Lazarev proves himself a hero.
Название:
Проверка на дорогах
Год выпуска:
1971
Жанр:
Драма, военный
Выпущено:
СССР, Россия
Режиссер:
Алексей Герман
В ролях:
Ролан Быков, Анатолий Солоницын, Владимир Заманский, Олег Борисов, Федор Одиноков, Геннадий Дюдяев, Майя Булгакова, Николай Бурляев
О фильме:
Зима 1942 года. В одной из северо-западных областей России, оккупированной фашистами, действует партизанский отряд лейтенанта Ивана Локоткова, в прошлом — сельского милиционера. Отряд кормить нечем: в округе — одни сожженные деревни и каратели.
Командир принимает решение захватить фашистский эшелон с продовольствием на узловой станции, где охраняется каждый метр. Провести операцию берется раскаявшийся полицай Лазарев, которого немцы знают в лицо. Но можно ли ему довериться?..
Thanks to original uploader