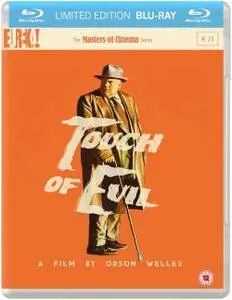 Touch of Evil (1958) + Extras
BDRip 1080p | MKV | 1920x1080 | x264 @ 14,0 Mbps | 1h 50mn | 11,72 Gb + 840 Mb
Audio: English DTS-HD MA 2.0 @ 727 Kbps + 2 Commentary tracks | Subs: English
Genre: Crime, Drama, Film-Noir | Director: Orson Welles
When a car bomb explodes on the American side of the U.S./Mexico border, Mexican drug enforcement agent Miguel Vargas (Charlton Heston) begins his investigation, along with American police captain Hank Quinlan (Orson Welles). When Vargas begins to suspect that Quinlan and his shady partner, Menzies (Joseph Calleia), are planting evidence to frame an innocent man, his investigations into their possible corruption quickly put himself and his new bride, Susie (Janet Leigh), in jeopardy.
Reconstructed Version (1998).
This version was reconstructed by Walter Murch & Bob O'Neil, referring to notes from Orson Welles's 1957 memo. This 2010 HD transfer utilized a 35 mm Safety Composite Fine Grain (printed 6pts. Lite) – created at YCM Lab in 1998. The restored/reconstructed mono audio utilized as sources the "theatrical version" source, the "preview version" print and an ADR line. The source for the opening scene music was taken from the body of the "theatrical version".
(Enlargeable)

Commentaries:
1) Commentary - an audio commentary by Rick Schmidlin recorded in 2008.
2) Commentary - an audio commentary with Charlton Heston, Janet Leigh, and Rick Schmidlin recorded in 1999.
Extras:
-
Bringing Evil to Life
- an informative featurette with a variety of excellent comments by Charlton Heston, Janet Leigh, Valentin de Vargas, Dennis Weaver, Peter Bogdanovich, cinematographer Allen Daviau, and filmmaker Robert Wise (21 min).
-
Evil Lost and Found
- additional short comments addressing the production history of Touch of Evil (including the various versions of the film and the famous 58-page memo Orson Welles sent Universal Studios) and interviews with Janet Leigh, restorer Bob O'Neil, Janet Leigh, producer of editorial changes Rick Schmidlin, Peter Bogdanovich, Jonathan Rosenbaum, and others (18 min).
-
Original Theatrical Trailer
- the original theatrical trailer for Touch of Evil (3 min).