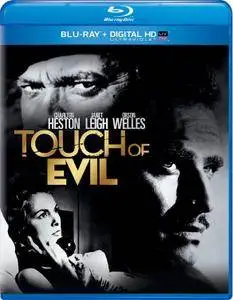 Touch of Evil (1958) + Extras
BDRip 720p | MKV | 1280x696 | x264 @ 6428 Kbps | 110 min | 5,48 Gb + 840 Mb
Audio: English FLAC 2.0 @ 629 Kbps | Subs: English (+SDH), Français, Español
Genre: Crime, Drama, Film-Noir
Director
: Orson Welles
Writers
: Orson Welles (screenplay), Whit Masterson (based on the novel "Badge Of Evil" by)
Stars
: Charlton Heston, Orson Welles, Janet Leigh
When a car bomb explodes on the American side of the U.S./Mexico border, Mexican drug enforcement agent Miguel Vargas (Charlton Heston) begins his investigation, along with American police captain Hank Quinlan (Orson Welles). When Vargas begins to suspect that Quinlan and his shady partner, Menzies (Joseph Calleia), are planting evidence to frame an innocent man, his investigations into their possible corruption quickly put himself and his new bride, Susie (Janet Leigh), in jeopardy.
(click to enlarge)

Extras:
- Bringing Evil to Life - an informative featurette with a variety of excellent comments by Charlton Heston, Janet Leigh, Valentin de Vargas, Dennis Weaver, Peter Bogdanovich, cinematographer Allen Daviau, and filmmaker Robert Wise (21 min).
- Evil Lost and Found - additional short comments addressing the production history of Touch of Evil (including the various versions of the film and the famous 58-page memo Orson Welles sent Universal Studios) and interviews with Janet Leigh, restorer Bob O'Neil, Janet Leigh, producer of editorial changes Rick Schmidlin, Peter Bogdanovich, Jonathan Rosenbaum, and others (18 min).
- Original Theatrical Trailer - the original theatrical trailer for Touch of Evil (3 min).
More in My Blog