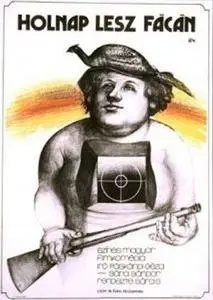 Tomorrow Pheasant / Holnap lesz fácán (1974)
Hungarian | DVDRip | AVI | 640x336 | XviD @ 1126 kb/s | 695 MB
Audio: MP3 @ 128 kb/s | 2 channels | 01:16:55 minutes | Subs: English (srt)
Genre: Comedy, Drama
The film takes place on an uninhabited island. A married couple wanted to retreat here, into the intimacy of silence and solitude. The island is however soon discovered and gradually flooded by campers, who freely enjoy naturist "mass" camping. One of the beer-bellied campers however seizes power, and establishes tyranny on the island with the help of his minions. They move the people who just want to be on holiday as puppets, they appoint officers and encourage public work, develop cultural programmes and organise collective bonfires, etc. The happy tourists soon become a crowd working, celebrating, cheering and clapping as the tyrant wishes. The exploited crowd however rebels and chaos prevails and anarchy overcomes everything.