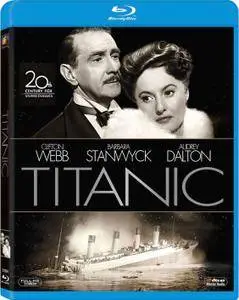 Titanic (1953)
BDRip 720p | MKV | 960x720 | x264 @ 5630 Kbps | 97 min | 4,41 Gb
Audio: English DTS 1.0 @ 768 Kbps | Subs: English, Français, Deutsch, Español, Italiano, Nederlands, Japanese (日本語)
Genre: Adventure, Drama, Romance
Director
: Jean Negulesco
Writers
: Charles Brackett, Walter Reisch
Stars
: Clifton Webb, Barbara Stanwyck, Robert Wagner
Stuck in an unloving marriage, rich socialite Julia Sturges (Barbara Stanwyck) boards the Titanic with her two young children with the intent of divorcing her husband, Richard (Clifton Webb), when she arrives in the States. At the last minute, Richard discovers her plan and manages to get on board the ship in an attempt to convince her to stay with him. Their marital problems take a backseat, however, when the Titanic collides with an iceberg and begins its descent into history.
I enjoyed this version more than James Cameron's magnum opus. The focus of the movie was more on human drama than special effects, though the latter was pretty decent for a 1953 movie. Clifton Webb and Barbara Stanwyck are wonderful as an estranged couple who finally reconcile just before they have to part. I reckon their story is more poignant because it's a greater tragedy to be parted when a couple has history together, as opposed to Leonardo DiCaprio and Kate Winslet's characters, who met aboard the ship. They only seem like they've known each other forever because the movie's so darn long.

I guess it's a matter of which you prefer, plot or effects. It's interesting to note that this Titanic won a screenplay Oscar - its only one - whereas James Cameron's Titanic won 11 Oscars but didn't even get a screenplay nomination.
(click to enlarge)

More in My Blog