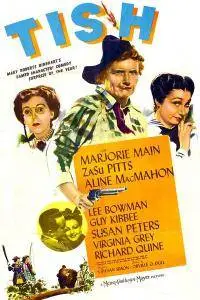 Tish (1942)
English | DVDRip | AVI | 640x480 | XviD @ 1844 kb/s | 1.21 GB
Audio: AC-3 @ 192 kb/s | 2 channels | 01:24:34 minutes
Genre: Comedy, Drama
Letitia "Tish" Carberry, an eccentric New England spinster, lives with her nephew, Charlie Sands, and her two cronies, Aggie Pilkington and Lizzie Wilkins, live in a near-by boarding house. Cora Edwards also lives at the boarding house and is in love with Charlie, who, however, loves Katherine "Kit" Bowser, the daughter of Judge Horace Bowser. Tish and her cronies promote a romance between Cora and Charlie, but Cora decides it is Theodore "Ted" Bowser she loves and they are secretly married before Ted leaves for a training school in Toronto, learning to ferry planes to England. Charlie and Katherine also elope secretly. Cora, anxious to join Ted, borrows money from the church organ fund and leaves, telling no one where she is going. Tish takes the blame for the shortage. Cora raises the money to repay Tish and goes to the post office, while Ted is on a flight. Before she mails it, she opens a letter she received from the Canadian government announcing Ted's loss at sea.