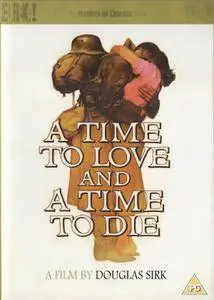 A Time to Love and a Time to Die (1958)
DVDRip | MKV | 720x576 | x264 @ 1039 Kbps | 126 min | 1,75 Gb
Audio: English and Français dub - each AC3 1.0 @ 448 Kbps | Subs: English
Genre: Drama, Romance, War
Director:
Douglas Sirk
Writers:
Orin Jannings (screenplay), Erich Maria Remarque (novel)
Stars:
John Gavin, Liselotte Pulver, Jock Mahoney
In 1944, a company of German soldiers on the Russian front are numbed by the horrors and hardships of war but then Private Ernst Graeber's long-awaited furlough comes through. Back home in Germany, he finds his home bombed. While hopelessly searching for his parents, he meets lovely Elizabeth Kruse, daughter of a political prisoner; together they try to wrest sanity and survival from a world full of hatred.
IMDB
- Nominated for 1 Oscar
I saw this fabulous tear-jerker purely by accident but I don't regret it one bit. In my opinion it's one of the best romantic war films ever made. This is mainly because the fabulous director Douglas Sirk doesn't allow it to become a soppy schmaltz. Also, the film is incredibly moving, especially in a scene at the beginning where a young man, unable to live with the guilt of having shot a woman, shoots himself. John Gavin is good as Ernst Graeber and his beloved is adequately played by Liselotte Pulver, but the most outstanding performance, I think, is by Charles Régnier as Joseph. If more war films were made like this then they would be much, much more watchable. The credit sequence at the beginning of the film is also very well done. Why don't more people know this masterpiece? Enjoy! (and don't forget the Kleenex) 10/10
(click to enlarge)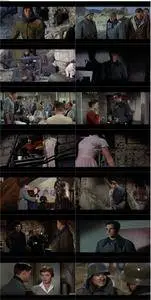 More in My Blog