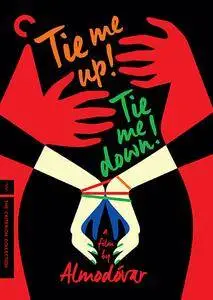 Tie Me Up! Tie Me Down! / Atame! / Átame! (1989) [Criterion Collection, Spine #722]
DVD Video | NTSC 16:9 | 720x480 | 1hr 41mn | 7.64 Gb
Spanish: Dolby AC3, 6 ch
Subtitles: English
Genre: Comedy, Crime, Drama
IMDB Rating: 7.0/10 (19.474 votes)
Criterion.com
Director:
Pedro Almodóvar
Writers:
Pedro Almodóvar (screenplay), Pedro Almodóvar (story)
Stars:
Victoria Abril, Antonio Banderas, Loles León
Ricky is released from a mental hospital, and knows exactly what he wants to do. He hunts down Marina, a porn film star he once had sex with, and tries to convince her to be his wife. She is a bit reluctant, so he ties her up. Will this approach endear him to her?
Extras:
- United! Reflections on Tie Me Up! Tie Me Down! - this documentary, produced by Criterion in 2014, focuses on the production history of Tie Me Up! Tie Me Down!, the film's controversial rating in the United States, its success, its reception in different territories, and Pedro Almodovar's unique directing style. Included in it are new interviews with the acclaimed Spanish director, executive producer Agustin Almodovar, cinematographer Jose Luis Alcaine, director of production Esther Garcia, actors Antonio Banderas, Victoria Abril, Rossy de Palma ("Motorcycle girl"), and Loles Leon ("Lola").
- Pedro and Antonio - in this filmed conversation, Pedro Almodovar and Antonio Banderas discuss their collaboration on Tie Me Up! Tie Me Down!, the controversial lovemaking sequence, the film's rating history in the United States, its unique themes (as well as some of the misconceptions about Marina and Ricky's relationshio), the evolution of Pedro Almodovar's style and Antonio Banderas' international success, etc. The conversation was filmed in 2003.
- Michael Barker - in this fantastic new video interview, Michael Barker, co-founder of Sony Pictures Classics, discusses his and his company's professional relationship with Pedro Almodovar, the important success of Women on the Verge of a Nervous Breakdown at Cannes Market, the Spanish director's unique storytelling and visual styles, Penelope Cruz's special performance in Volver, the controversy surrounding the rating of Tie Me Up! Tie Me Down! in the United States, etc.
- "Resistire" - presented here is archival footage from the premiere of Tie Me Up! Tie Me Down! in Madrid in 1989. Cast and crew members can be seen performing the pop song "Resistire" in front of a very enthusiastic crowd.
- Trailer - original trailer for Tie Me Up! Tie Me Down!.


Title: TieMeUpTieMeDown.90.Cr.D9
Size: 7.64 Gb ( 8 008 522,00 KBytes ) - DVD-9
Enabled regions: 1, 2, 3, 4, 5, 6, 7, 8

VTS_01 :
Play Length: 00:00:00
Video: NTSC 16:9 (720x480) VBR, Auto Letterboxed

VTS_02 :
Play Length: 00:28:14
Video: NTSC 16:9 (720x480) VBR, Auto Letterboxed
Audio:
Espanol (Dolby AC3, 2 ch)
Subtitles:
English

VTS_03 :
Play Length: 00:03:59
Video: NTSC 4:3 (720x480) VBR
Audio:
Espanol (Dolby AC3, 2 ch)
Subtitles:
English

VTS_04 :
Play Length: 01:41:51
Video: NTSC 16:9 (720x480) VBR, Auto Letterboxed
Audio:
Espanol (Dolby AC3, 6 ch)
Subtitles:
English

VTS_05 :
Play Length: 00:00:20
Video: NTSC 16:9 (720x480) VBR, Auto Pan&Scan

VTS_06 :
Play Length: 00:14:56
Video: NTSC 16:9 (720x480) VBR, Auto Letterboxed
Audio:
English (Dolby AC3, 2 ch)
Subtitles:
English

VTS_07 :
Play Length: 00:26:11
Video: NTSC 4:3 (720x480) VBR
Audio:
Espanol (Dolby AC3, 2 ch)
Subtitles:
English

VTS_08 :
Play Length: 00:02:25
Video: NTSC 16:9 (720x480) VBR, Auto Letterboxed
Audio:
Espanol (Dolby AC3, 1 ch)
Subtitles:
English

VTS_09 :
Play Length: 00:00:00
Video: NTSC 4:3 (720x480) VBR