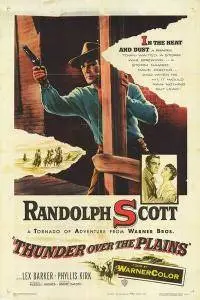 Thunder Over the Plains (1953)
English or Spanish (2 audio tracks) | DVDRip | AVI | 512x384 | XviD @ 1189 kb/s | 897 MB
Audio: AC-3 @ 192 kb/s | 2 channels | 01:19:14 minutes | Subs: Spanish (srt)
Genre: Romance, War, Western
It's 1869, Texas has not yet been readmitted to the Union, and carpetbaggers have taken over the state. Federal Captain Porter, a Texan, has to carry out orders against his own people. He brings in the rebel leader whom he knows is innocent of the murder for which he is charged. But in trying to prove his innocence, Porter now finds he is a wanted man.