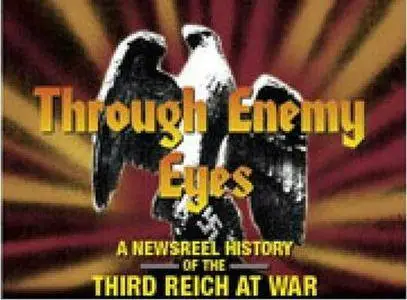 Through Enemy Eyes. A Newsreel History of the Third Reich at War. Volume 14 (1939-1945)
DVD Video, 2 Disc Set | 267 minutes | NTSC 4:3 | 720x480 | 3.72 Gb + 3.74 Gb
German: Dolby AC3, 2 ch
Subtitle: English
Genre: Documentary | History | War | Series
amazon.com
A Newsreel History of the Third Reich at War: Go behind enemy lines on a journey that traces the rise and fall of German military fortunes… the great battles, the desperate hours captured via authentic uncut newsreels, exactly as presented to German wartime cinema audiences.
Now see the Second World War as you've never seen it before: Through Enemy Eyes.
All newsreels have been transferred from original 35 millimeter and 16 millimeter German prints and have been accurately translated and electronically subtitled in English.
Contents of Through Enemy Eyes Volume 14:DISK 1: Aug 24, 1944 - Nov 23, 1944
NEWSREEL 729: Warsaw Uprising Erupts Into Heavy Fighting; Tiger and Panther Tanks on the Eastern Front;
NEWSREEL 730:German Troops Counterattack in Latvia;
NEWSREEL 731: Top Fighter-Pilot Ace Hartmann Decorated by Hitler;
NEWSREEL 732: General Guderian Speaks to Hitler Youth Members;
NEWSREEL 734: Panzerfaust and Panzerschreck Fight Soviet Tanks.
NEWSREEL 735: One-Man-Torpedo Demonstrated to Hitler Youth; British Air Landings at Arnhem; Destroyed British and American Transport Gliders;
NEWSREEL 738: State Ceremony at Rommel's Funeral
NEWSREEL 739: Students of Jülich NCO School Take Over Defense of Geilenkirchen; Gruesome Scenes of Soviet Massacre in Nemmersdorf;
NEWSREEL 741: Swearing-in Ceremonies of Volkssturm Soldiers;
NEWSREEL 742: General Vlasov Speaks to Eastern Workers
DISK 2: Dec 7, 1944 - Mar 22, 1945
NEWSREEL 744: Inspection of Grossdeutschland Regiment in Berlin;
NEWSREEL 745: Blown-up Waal River Dams Near Arnhem;
NEWSREEL 746: Defensive Battles on the Western Front.
NEWSREEL 747: Hitler Youth Solstice Ceremony; SS General Sepp Dietrich Visits His Troops; Tiger II Tanks With New Turrets; Panorama of Destroyed Sherman Tanks;
NEWSREEL 748: German Offensive in the Ardennes;
NEWSREEL 749: Lift-off and Flight of a V-2 Rocket.
NEWSREEL 750: Training of the Volkssturm Volunteers; Winter Battles in the Ardennes;
NEWSREEL 751: Tanks and Infantry in Action at Budapest;
NEWSREEL 752: Defensive Battles Within Lower Rhine and Meuse; Volkssturm Units Man Barricades in Fortress Breslau; Heavy Battles Rage in East Prussia.
NEWSREEL 753: Civilian Population Construct Barricades in Berlin; Atrocities of the Soviets Depicted; Goebbels Inspects German Positions
NEWSREEL 754: General Vlasov Takes the Command of Russian Volunteers;
NEWSREEL 755: Last Film of Hitler Decorating Members of the Hitler Youth in the Garden of His Bunker


Title: ThroughEnemyEyes.V14.D1
Size: 3.72 Gb ( 3 905 384,00 KBytes ) - DVD-5
Enabled regions: 1, 2, 3, 4, 5, 6, 7, 8

VTS_01 :
Play Length: 00:00:33
Video: NTSC 4:3 (720x480) VBR
Audio:
Not specified (Dolby AC3, 2 ch)

VTS_02 :
Play Length: 00:26:15
Video: NTSC 4:3 (720x480) VBR
Audio:
Not specified (Dolby AC3, 2 ch)

VTS_03 :
Play Length: 00:34:11
Video: NTSC 4:3 (720x480) VBR
Audio:
Not specified (Dolby AC3, 2 ch)

VTS_04 :
Play Length: 00:37:07
Video: NTSC 4:3 (720x480) VBR
Audio:
Not specified (Dolby AC3, 2 ch)

VTS_05 :
Play Length: 00:37:18
Video: NTSC 4:3 (720x480) VBR
Audio:
Not specified (Dolby AC3, 2 ch)

–––––––––––––––––––––––––––––––––––-

Title: ThroughEnemyEyes.V14.D2
Size: 3.74 Gb ( 3 924 546,00 KBytes ) - DVD-5
Enabled regions: 1, 2, 3, 4, 5, 6, 7, 8

VTS_01 :
Play Length: 00:00:33
Video: NTSC 4:3 (720x480) VBR
Audio:
Not specified (Dolby AC3, 2 ch)

VTS_02 :
Play Length: 00:31:48
Video: NTSC 4:3 (720x480) VBR
Audio:
Not specified (Dolby AC3, 2 ch)

VTS_03 :
Play Length: 00:35:16
Video: NTSC 4:3 (720x480) VBR
Audio:
Not specified (Dolby AC3, 2 ch)

VTS_04 :
Play Length: 00:31:57
Video: NTSC 4:3 (720x480) VBR
Audio:
Not specified (Dolby AC3, 2 ch)

VTS_05 :
Play Length: 00:36:37
Video: NTSC 4:3 (720x480) VBR
Audio:
Not specified (Dolby AC3, 2 ch)


Thanks to original uploader