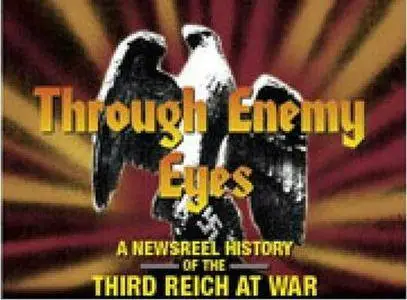 Through Enemy Eyes. A Newsreel History of the Third Reich at War. Volume 12 (1939-1945)
DVD Video, 2 Disc Set | 249 minutes | NTSC 4:3 | 720x480 | 3.60 Gb + 4.03 Gb
German: Dolby AC3, 2 ch
Subtitle: English
Genre: Documentary | History | War | Series
amazon.com
A Newsreel History of the Third Reich at War: Go behind enemy lines on a journey that traces the rise and fall of German military fortunes… the great battles, the desperate hours captured via authentic uncut newsreels, exactly as presented to German wartime cinema audiences.
Now see the Second World War as you've never seen it before: Through Enemy Eyes.
All newsreels have been transferred from original 35 millimeter and 16 millimeter German prints and have been accurately translated and electronically subtitled in English.
Contents of Through Enemy Eyes Volume 12:DISK 1: Nov 3, 1943 - Dec 22, 1943
NEWSREEL 687: Frick Inaugurated as Reich Protector of Bohemia-Moravia; Göring Inspects Air Defense Forces; Hitler Decorates U-Boat Commanders; German Invasion of Kos Island Routs Allies.
NEWSREEL 688: Albert Speer Speaks at Berlin Plant; Cossack Brigade Attacks Bosnian Partisans; Kesselring Reviews German Troops in Italy; Soviet Advance in Krivoi Rog Repelled;
NEWSREEL 689: Home Front Activities in Germany; Viennese Greet Ace Pilot Nowotny; Hitler and Old Comrades in Löwenbräu Cellar; German-Soviet Clash on Eastern Front.
NEWSREEL 690: Soldiers see Hockey in Berlin; Supplies Delivered to Arctic Front; Tanks and Flak Repel Allies on Italian Front;
NEWSREEL 692: Himmler Inspects Muslim Volunteers; Response to Allied Bombing of Berlin; Germans Counterattack at Dnieper Bend;
NEWSREEL 694: Santa Claus in Channel Bunker; Axis Defenses on Danish Coast; JU-52 Supply Drop on Eastern Front; Paratroopers Blow Up Bridge in Italy;
DISK 2: Dec 29, 1943 - Mar 8, 1944
NEWSREEL 695: Submarine Nets in Finland Gulf; Rumanian Troops in the Crimea; Germans Reinforce Nikopol Bridgehead; Rocket Fire Reverberates on Eastern Front.
NEWSREEL 697: Anti-Bolshevist Rally in Paris; Bosnian Partisan Band Captured; Panther Tanks Support Infantry in Nevel Area;
NEWSREEL 698: Sports and Leisure in Germany; German Troops Visit Greek Monks; Infantry, Assault Guns Oppose Soviet Tanks
NEWSREEL 702: Women Workers Pull Their Weight in Reich Labor Service; Artillery Duels at Nettuno Beachhead; American Prisoners March Into Rome;
NEWSREEL 703: Seyss-Inquart New President of German Academy; Allies Bombard Monte Cassino; Wounded in Ruins of Castel Gandolfo;
NEWSREEL 705: Léon Degrelle Reviews the Battle at Cherkassy; German Withdrawal Through Narva;
NEWSREEL 707: French Waffen-SS Volunteers; Exchange Prisoners Return From the US; The Goliath Remote-Controlled Miniature Tank;


Title: ThroughEnemyEyes.V12.D1
Size: 3.60 Gb ( 3 769 988,00 KBytes ) - DVD-5
Enabled regions: 1, 2, 3, 4, 5, 6, 7, 8

VTS_01 :
Play Length: 00:00:33
Video: NTSC 4:3 (720x480) VBR
Audio:
Not specified (Dolby AC3, 2 ch)

VTS_02 :
Play Length: 00:18:53
Video: NTSC 4:3 (720x480) VBR
Audio:
Not specified (Dolby AC3, 2 ch)

VTS_03 :
Play Length: 00:20:32
Video: NTSC 4:3 (720x480) VBR
Audio:
Not specified (Dolby AC3, 2 ch)

VTS_04 :
Play Length: 00:19:35
Video: NTSC 4:3 (720x480) VBR
Audio:
Not specified (Dolby AC3, 2 ch)

VTS_05 :
Play Length: 00:19:52
Video: NTSC 4:3 (720x480) VBR
Audio:
Not specified (Dolby AC3, 2 ch)

VTS_06 :
Play Length: 00:16:30
Video: NTSC 4:3 (720x480) VBR
Audio:
Not specified (Dolby AC3, 2 ch)

VTS_07 :
Play Length: 00:18:15
Video: NTSC 4:3 (720x480) VBR
Audio:
Not specified (Dolby AC3, 2 ch)

–––––––––––––––––––––––––––––––––––-

Title: ThroughEnemyEyes.V12.D2
Size: 4.03 Gb ( 4 224 584,00 KBytes ) - DVD-5
Enabled regions: 1, 2, 3, 4, 5, 6, 7, 8

VTS_01 :
Play Length: 00:00:33
Video: NTSC 4:3 (720x480) VBR
Audio:
Not specified (Dolby AC3, 2 ch)

VTS_02 :
Play Length: 00:22:23
Video: NTSC 4:3 (720x480) VBR
Audio:
Not specified (Dolby AC3, 2 ch)

VTS_03 :
Play Length: 00:19:33
Video: NTSC 4:3 (720x480) VBR
Audio:
Not specified (Dolby AC3, 2 ch)

VTS_04 :
Play Length: 00:19:58
Video: NTSC 4:3 (720x480) VBR
Audio:
Not specified (Dolby AC3, 2 ch)

VTS_05 :
Play Length: 00:16:39
Video: NTSC 4:3 (720x480) VBR
Audio:
Not specified (Dolby AC3, 2 ch)

VTS_06 :
Play Length: 00:18:16
Video: NTSC 4:3 (720x480) VBR
Audio:
Not specified (Dolby AC3, 2 ch)

VTS_07 :
Play Length: 00:19:27
Video: NTSC 4:3 (720x480) VBR
Audio:
Not specified (Dolby AC3, 2 ch)

VTS_08 :
Play Length: 00:20:31
Video: NTSC 4:3 (720x480) VBR
Audio:
Not specified (Dolby AC3, 2 ch)


Thanks to original uploader