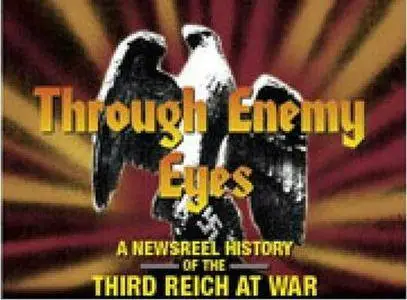 Through Enemy Eyes. A Newsreel History of the Third Reich at War. Volume 10 (1939-1945)
DVD Video, 2 Disc Set | 256 minutes | NTSC 4:3 | 720x480 | 3.69 Gb + 3.74 Gb
German: Dolby AC3, 2 ch
Subtitle: English
Genre: Documentary | History | War | Series
amazon.com
A Newsreel History of the Third Reich at War: Go behind enemy lines on a journey that traces the rise and fall of German military fortunes… the great battles, the desperate hours captured via authentic uncut newsreels, exactly as presented to German wartime cinema audiences.
Now see the Second World War as you've never seen it before: Through Enemy Eyes.
All newsreels have been transferred from original 35 millimeter and 16 millimeter German prints and have been accurately translated and electronically subtitled in English.
Contents of Through Enemy Eyes Volume 10DISK 1: Dec 10, 1942 - Mar 3, 1943
NEWSREEL 640: Japanese Victories in the Pacific; Training in Submarine Schools Coast Defenses.
NEWSREEL 647: Night Fighting Operations; Tanks and Armored Infantry Attack French Troops in Tunisia; Winter Battles in Leningrad Area;
NEWSREEL 648: U-Boat Action in the South Atlantic; Soldiers' Lives in Wintery Eastern Front.
NEWSREEL 651: Goebbels Total War Speech in Berlin; Rommel's Review of Defensive Positions in Gabes, Tunisia; Winter Rigors on the Eastern Front;
NEWSREEL 652: German Tanks Take on US and British in Tunisia; German Troops Retreat on the Eastern Front;
DISK 2: Mar 17, 1943 - Jun 9, 1943
NEWSREEL 654: German Units Battle Soviet Partisans.
NEWSREEL 655: Hitler Memorial Day Speech in Berlin; German Defenses on Crete; Waffen-SS Units in Battle of Kharkov;
NEWSREEL 658: Spring Combat on the Eastern Front; Hitler's Meeting With Mussolini; U-Boats in the Caribbean; Katyn Forest Massacre.
NEWSREEL 661: Thaw Turns Volkhov Front Into Water; Defensive War at Foot of Tunisian Mountains; U-Boat Action in Atlantic;
NEWSREEL 666: Hitler Youth Volunteer for Waffen-SS.


Title: ThroughEnemyEyes.V10.D1
Size: 3.69 Gb ( 3 873 038,00 KBytes ) - DVD-5
Enabled regions: 1, 2, 3, 4, 5, 6, 7, 8

VTS_01 :
Play Length: 00:00:33
Video: NTSC 4:3 (720x480) VBR
Audio:
Not specified (Dolby AC3, 2 ch)

VTS_02 :
Play Length: 00:19:45
Video: NTSC 4:3 (720x480) VBR
Audio:
Not specified (Dolby AC3, 2 ch)

VTS_03 :
Play Length: 00:19:46
Video: NTSC 4:3 (720x480) VBR
Audio:
Not specified (Dolby AC3, 2 ch)

VTS_04 :
Play Length: 00:25:55
Video: NTSC 4:3 (720x480) VBR
Audio:
Not specified (Dolby AC3, 2 ch)

VTS_05 :
Play Length: 00:21:51
Video: NTSC 4:3 (720x480) VBR
Audio:
Not specified (Dolby AC3, 2 ch)

VTS_06 :
Play Length: 00:17:10
Video: NTSC 4:3 (720x480) VBR
Audio:
Not specified (Dolby AC3, 2 ch)

VTS_07 :
Play Length: 00:20:47
Video: NTSC 4:3 (720x480) VBR
Audio:
Not specified (Dolby AC3, 2 ch)

–––––––––––––––––––––––––––––––––––-

Title: ThroughEnemyEyes.V10.D2
Size: 3.74 Gb ( 3 923 538,00 KBytes ) - DVD-5
Enabled regions: 1, 2, 3, 4, 5, 6, 7, 8

VTS_01 :
Play Length: 00:00:33
Video: NTSC 4:3 (720x480) VBR
Audio:
Not specified (Dolby AC3, 2 ch)

VTS_02 :
Play Length: 00:20:47
Video: NTSC 4:3 (720x480) VBR
Audio:
Not specified (Dolby AC3, 2 ch)

VTS_03 :
Play Length: 00:21:59
Video: NTSC 4:3 (720x480) VBR
Audio:
Not specified (Dolby AC3, 2 ch)

VTS_04 :
Play Length: 00:27:09
Video: NTSC 4:3 (720x480) VBR
Audio:
Not specified (Dolby AC3, 2 ch)

VTS_05 :
Play Length: 00:21:39
Video: NTSC 4:3 (720x480) VBR
Audio:
Not specified (Dolby AC3, 2 ch)

VTS_06 :
Play Length: 00:15:15
Video: NTSC 4:3 (720x480) VBR
Audio:
Not specified (Dolby AC3, 2 ch)

VTS_07 :
Play Length: 00:19:51
Video: NTSC 4:3 (720x480) VBR
Audio:
Not specified (Dolby AC3, 2 ch)


Thanks to original uploader