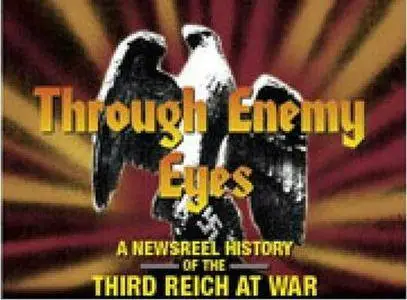 Through Enemy Eyes. A Newsreel History of the Third Reich at War. Volume 8 (1939-1945)
DVD Video, 2 Disc Set | 255 minutes | NTSC 4:3 | 720x480 | 3.82 Gb + 3.70 Gb
German: Dolby AC3, 2 ch
Subtitle: English
Genre: Documentary | History | War | Series
amazon.com
A Newsreel History of the Third Reich at War: Go behind enemy lines on a journey that traces the rise and fall of German military fortunes… the great battles, the desperate hours captured via authentic uncut newsreels, exactly as presented to German wartime cinema audiences.
Now see the Second World War as you've never seen it before: Through Enemy Eyes.
All newsreels have been transferred from original 35 millimeter and 16 millimeter German prints and have been accurately translated and electronically subtitled in English.
Contents of Through Enemy Eyes Volume 8DISK 1: Apr 22, 1942 - Jun 11, 1942
NEWSREEL 607: The Continuing Battle for Leningrad;
NEWSREEL 609: Hitler and Mussolini meet in Salzburg and at the Berghof;
NEWSREEL 610: Reichsleiter Alfred Rosenberg receives Farmers from Ukraine, Belorussia, and Russia; Fight against Soviet Partisans in the Crimea;
NEWSREEL 611: German and Finnish Troops in Action on the Murmansk Front; After Heavy fighting Kerch in the Crimea Captured by German Troops;
NEWSREEL 614: Massed Soviet Tanks and Infantry Attack German Positions near Kharkov; German, Italian, Romanian and Hungarian Troops Counterattack and Surround 3 Soviet Armies; Nearly a Quarter of Million Soviet Soldiers Surrender.
DISK 2: Jun 18, 1942 - Jul 15, 1942
NEWSREEL 615: Funeral Services for Assassinated SS General Reinhard Heydrich in Prague and Berlin; Capture of Bir Hacheim by Afrika Korps; Siege of Sevastopol German and Romanian troops surround Sevastopol;
NEWSREEL 617: In North Africa Rommel Directs an Attack on the British 8th Army; Fierce Fighting in the Gazala Line - in 10 Days the British Lose over 10,000 men captured and 550 Tanks; German and Italian Troops Launch an Attack on British-held Tobruk; Tobruk Capitulates
NEWSREEL 618: Battle of Stevastopol; Africa After Tobruk Victory; Capture of Mersa Matruh;
NEWSREEL 619: Advance Toward the Don; U-Boat Homecomings; Capture of Voronezh. Germany, 1942, B&W,


Title: ThroughEnemyEyes.V08.D1
Size: 3.82 Gb ( 4 002 178,00 KBytes ) - DVD-5
Enabled regions: 1, 2, 3, 4, 5, 6, 7, 8

VTS_01 :
Play Length: 00:00:33
Video: NTSC 4:3 (720x480) VBR
Audio:
Not specified (Dolby AC3, 2 ch)

VTS_02 :
Play Length: 00:28:51
Video: NTSC 4:3 (720x480) VBR
Audio:
Not specified (Dolby AC3, 2 ch)

VTS_03 :
Play Length: 00:29:53
Video: NTSC 4:3 (720x480) VBR
Audio:
Not specified (Dolby AC3, 2 ch)

VTS_04 :
Play Length: 00:25:38
Video: NTSC 4:3 (720x480) VBR
Audio:
Not specified (Dolby AC3, 2 ch)

VTS_05 :
Play Length: 00:27:54
Video: NTSC 4:3 (720x480) VBR
Audio:
Not specified (Dolby AC3, 2 ch)

VTS_06 :
Play Length: 00:26:11
Video: NTSC 4:3 (720x480) VBR
Audio:
Not specified (Dolby AC3, 2 ch)

–––––––––––––––––––––––––––––––––––-

Title: ThroughEnemyEyes.V08.D2
Size: 3.70 Gb ( 3 877 200,00 KBytes ) - DVD-5
Enabled regions: 1, 2, 3, 4, 5, 6, 7, 8

VTS_01 :
Play Length: 00:00:33
Video: NTSC 4:3 (720x480) VBR
Audio:
Not specified (Dolby AC3, 2 ch)

VTS_02 :
Play Length: 00:29:46
Video: NTSC 4:3 (720x480) VBR
Audio:
Not specified (Dolby AC3, 2 ch)

VTS_03 :
Play Length: 00:28:43
Video: NTSC 4:3 (720x480) VBR
Audio:
Not specified (Dolby AC3, 2 ch)

VTS_04 :
Play Length: 00:30:59
Video: NTSC 4:3 (720x480) VBR
Audio:
Not specified (Dolby AC3, 2 ch)

VTS_05 :
Play Length: 00:27:35
Video: NTSC 4:3 (720x480) VBR
Audio:
Not specified (Dolby AC3, 2 ch)


Thanks to original uploader