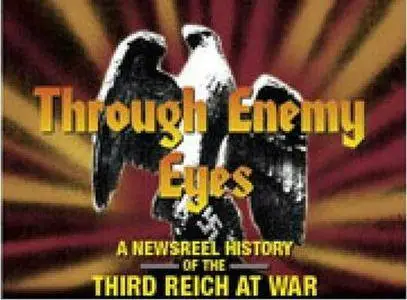 Through Enemy Eyes. A Newsreel History of the Third Reich at War. Volume 7 (1939-1945)
DVD Video, 2 Disc Set | 254 minutes | NTSC 4:3 | 720x480 | 3.58 Gb + 3.66 Gb
German: Dolby AC3, 2 ch
Subtitle: English
Genre: Documentary | History | War | Series
amazon.com
A Newsreel History of the Third Reich at War: Go behind enemy lines on a journey that traces the rise and fall of German military fortunes… the great battles, the desperate hours captured via authentic uncut newsreels, exactly as presented to German wartime cinema audiences.
Now see the Second World War as you've never seen it before: Through Enemy Eyes.
All newsreels have been transferred from original 35 millimeter and 16 millimeter German prints and have been accurately translated and electronically subtitled in English.
Contents of Through Enemy Eyes Volume 7DISK 1: Nov 26, 1941 - Feb 9, 1942
NEWSREEL 586: State Funeral of Ernst Udet Important Rail Junction of Tikhvin Captured by German Troops.; Infantry Units Reach the Crimean Capital Simferopol.; German Troops Enter the Historic City of Yalta on the Black Sea.; Stukas Attack Enemy Tanks and Troop Concentrations on the Libyan-Egyptian Border.;
NEWSREEL 588: Grossdeutschland Regiment in Action near Moscow.; One of the two U-boats that sank British Carrier Ark Royal Returns to Port.; Colonel General Guderian's Panzers Attack Southwest of Moscow.; Italian and German Troops Battle the Brits and New Zealanders in North Africa.
NEWSREEL 592: Finnish Troops Counterattack in East Karelia.; Skis are a Necessity in Snowbound Eastern Front.; In Leningrad Sector German Infantry Prevents a Bolshevik Breakout over the Neva River.; Heavy Combat near Sevastopol in Crimea.;
NEWSREEL 594: The Führer Awards Oak Leaves to the Knight's Cross to Waffen-SS General Sepp Dietrich and other Officers.; Camouflage Suits for Winter Warfare.; German Mine Sweepers in Action on the English Channel.; Siege of Leningrad - NEWSREEL 596: General Muñoz Grandes, Commander of Spanish Blue Division, Receives the Iron Cross, First Class.;
DISK 2: Feb 25, 1942 - Apr 16, 1942
NEWSREEL 599: Continued Fighting on the Eastern Front.; Colonel General Rommel on the Outskirts of Benghazi.; German U-boats in Action off the Coast of New York.;
NEWSREEL 600: Japanese military operations in the Pacific (Japanese Newsreel Footage Included);
NEWSREEL 602:Winter Warfare in the Donets Region in Russia;
NEWSREEL 605: German troops in action on the Central Sector of the Eastern Front;
NEWSREEL 606: German troops advance into the Kerch Peninsula in the eastern Crimea; Tank Battles in Cyrenaica, Libya;


Title: ThroughEnemyEyes.V07.D1
Size: 3.58 Gb ( 3 755 100,00 KBytes ) - DVD-5
Enabled regions: 1, 2, 3, 4, 5, 6, 7, 8

VTS_01 :
Play Length: 00:00:33
Video: NTSC 4:3 (720x480) VBR
Audio:
Not specified (Dolby AC3, 2 ch)

VTS_02 :
Play Length: 00:27:43
Video: NTSC 4:3 (720x480) VBR
Audio:
Not specified (Dolby AC3, 2 ch)

VTS_03 :
Play Length: 00:24:28
Video: NTSC 4:3 (720x480) VBR
Audio:
Not specified (Dolby AC3, 2 ch)

VTS_04 :
Play Length: 00:23:14
Video: NTSC 4:3 (720x480) VBR
Audio:
Not specified (Dolby AC3, 2 ch)

VTS_05 :
Play Length: 00:22:21
Video: NTSC 4:3 (720x480) VBR
Audio:
Not specified (Dolby AC3, 2 ch)

VTS_06 :
Play Length: 00:23:46
Video: NTSC 4:3 (720x480) VBR
Audio:
Not specified (Dolby AC3, 2 ch)

–––––––––––––––––––––––––––––––––––-

Title: ThroughEnemyEyes.V07.D2
Size: 3.66 Gb ( 3 835 876,00 KBytes ) - DVD-5
Enabled regions: 1, 2, 3, 4, 5, 6, 7, 8

VTS_01 :
Play Length: 00:00:33
Video: NTSC 4:3 (720x480) VBR
Audio:
Not specified (Dolby AC3, 2 ch)

VTS_02 :
Play Length: 00:29:21
Video: NTSC 4:3 (720x480) VBR
Audio:
Not specified (Dolby AC3, 2 ch)

VTS_03 :
Play Length: 00:29:42
Video: NTSC 4:3 (720x480) VBR
Audio:
Not specified (Dolby AC3, 2 ch)

VTS_04 :
Play Length: 00:20:48
Video: NTSC 4:3 (720x480) VBR
Audio:
Not specified (Dolby AC3, 2 ch)

VTS_05 :
Play Length: 00:28:40
Video: NTSC 4:3 (720x480) VBR
Audio:
Not specified (Dolby AC3, 2 ch)

VTS_06 :
Play Length: 00:24:10
Video: NTSC 4:3 (720x480) VBR
Audio:
Not specified (Dolby AC3, 2 ch)


Thanks to original uploader