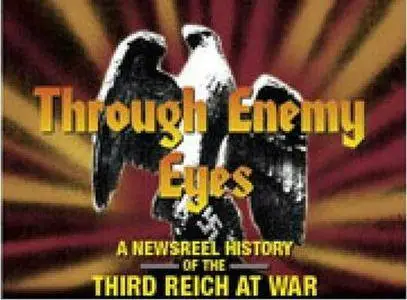 Through Enemy Eyes. A Newsreel History of the Third Reich at War. Volume 6 (1939-1945)
DVD Video, 2 Disc Set | 237 minutes | NTSC 4:3 | 720x480 | 3,75 Gb + 3,78 Gb
German: Dolby AC3, 2 ch
Subtitle: English
Genre: Documentary | History | War | Series
amazon.com
A Newsreel History of the Third Reich at War: Go behind enemy lines on a journey that traces the rise and fall of German military fortunes… the great battles, the desperate hours captured via authentic uncut newsreels, exactly as presented to German wartime cinema audiences.
Now see the Second World War as you've never seen it before: Through Enemy Eyes.
All newsreels have been transferred from original 35 millimeter and 16 millimeter German prints and have been accurately translated and electronically subtitled in English.
Contents of Through Enemy Eyes Volume 6DISK 1: Aug 13, 1941 - Sept 24, 1941
NEWSREEL 571: Volunteer Legions From France, Flanders and Denmark Join the Crusade Against Bolshevism; Masses of Soviet Soldiers Captured in Ukraine; Wehrmacht rapidly advances on all Eastern Fronts;
NEWSREEL 573: German Planes Attack the Port of Murmansk; Romanian Troops March on Odessa; Panzer Units Reach the Black Sea Port of Nikolayev; Battle of Gomel – 90,000 Soviet Prisoners Taken; Heavy Combat Along the St.Petersburg - NEWSREEL 574: New U-boats Launched to Reinforce the Atlantic Front; Wehrmacht Troops Advance to Leningrad; Mussolini and Hitler Tour the Eastern Front; Waffen-SS Forces Sweep into the Port of Kherson;
NEWSREEL 577: Finnish Troops Liberate Viipuri (Vyborg), Old Capital of Karelia; German Troops Approach the Outskirts of Leningrad; Four Soviet Armies Encircled by Guderian's and Von Kleist's Panzer Armies; Heavy Fighting Rage for the Cities of Kremenchug and Chernigov; German Troops Fight their Way into Kiev.
DISK 2: Oct 1, 1941 - Nov 20, 1941
NEWSREEL 578: German Forces Converge on Leningrad from all Directions; Italian and Romanian Troops at the Gates of Odessa; Kiev, the Capital of Ukraine, Liberated from Bolshevik Terror; The Encirclement of Four Soviet Armies in the Kiev Area nets 665,000 Prisoners;
NEWSREEL 579: German Artillery Pulverizes Leningrad - the Siege Begins; Army and Waffen-SS Units Advance on Valday Hills, Aftermath of the Battle in the Kiev Front
NEWSREEL 583: Finnish Divisions Advance South of Lakes Ladoga and Onega.; Historic Battlefleld of Borodino Penetrated by Waffen-SS and General Hoeppner's Panzers.; German Infantry Advance on Kharkov.;
NEWSREEL 585: Mop-up Operations in Karelia.; Attack on Soviet Outer Defence Ring near Moscow.; The Soviet Industrial Hub of Kharkov Captured by the Wehrmacht.; German Advances in the Crimean Peninsula.;


Title: ThroughEnemyEyes.V06.D1
Size: 3.75 Gb ( 3 935 306,00 KBytes ) - DVD-5
Enabled regions: 1, 2, 3, 4, 5, 6, 7, 8

VTS_01 :
Play Length: 00:00:33
Video: NTSC 4:3 (720x480) VBR
Audio:
Not specified (Dolby AC3, 2 ch)

VTS_02 :
Play Length: 00:28:22
Video: NTSC 4:3 (720x480) VBR
Audio:
Not specified (Dolby AC3, 2 ch)

VTS_03 :
Play Length: 00:28:18
Video: NTSC 4:3 (720x480) VBR
Audio:
Not specified (Dolby AC3, 2 ch)

VTS_04 :
Play Length: 00:31:03
Video: NTSC 4:3 (720x480) VBR
Audio:
Not specified (Dolby AC3, 2 ch)

VTS_05 :
Play Length: 00:31:02
Video: NTSC 4:3 (720x480) VBR
Audio:
Not specified (Dolby AC3, 2 ch)

–––––––––––––––––––––––––––––––––––-

Title: ThroughEnemyEyes.V06.D2
Size: 3.79 Gb ( 3 970 902,00 KBytes ) - DVD-5
Enabled regions: 1, 2, 3, 4, 5, 6, 7, 8

VTS_01 :
Play Length: 00:00:33
Video: NTSC 4:3 (720x480) VBR
Audio:
Not specified (Dolby AC3, 2 ch)

VTS_02 :
Play Length: 00:30:02
Video: NTSC 4:3 (720x480) VBR
Audio:
Not specified (Dolby AC3, 2 ch)

VTS_03 :
Play Length: 00:31:12
Video: NTSC 4:3 (720x480) VBR
Audio:
Not specified (Dolby AC3, 2 ch)

VTS_04 :
Play Length: 00:30:43
Video: NTSC 4:3 (720x480) VBR
Audio:
Not specified (Dolby AC3, 2 ch)

VTS_05 :
Play Length: 00:27:54
Video: NTSC 4:3 (720x480) VBR
Audio:
Not specified (Dolby AC3, 2 ch)


Thanks to original uploader