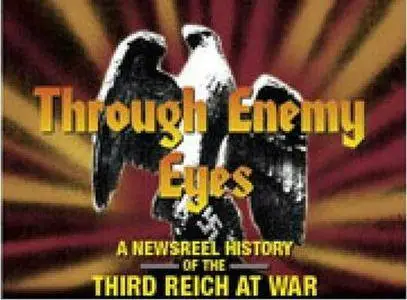 Through Enemy Eyes. A Newsreel History of the Third Reich at War. Volume 5 (1939-1945)
DVD Video, 2 Disc Set | 245 minutes | NTSC 4:3 | 720x480 | 3.70 Gb + 3.77 Gb
German: Dolby AC3, 2 ch
Subtitle: English
Genre: Documentary | History | War | Series
amazon.com
A Newsreel History of the Third Reich at War: Go behind enemy lines on a journey that traces the rise and fall of German military fortunes… the great battles, the desperate hours captured via authentic uncut newsreels, exactly as presented to German wartime cinema audiences.
Now see the Second World War as you've never seen it before: Through Enemy Eyes.
All newsreels have been transferred from original 35 millimeter and 16 millimeter German prints and have been accurately translated and electronically subtitled in English.
Contents of Through Enemy Eyes Volume 5DISK 1: May 7, 1941 - July 4, 1941
NEWSREEL 557: Rudolf Hess Presents Awards at a Messerschmitt Factory; Hitler Speaks in Berlin's Sportpalast and in the Reichstag; Afrika Korps Units Converge on Tobruk; Ancient Battle Site of Thermopylae in German Hands; Occupation Troops in Athens; Crossing the Gulf of Patras into Peloponnesus. (Also available on VHS)
NEWSREEL 561: Rommel Meets with Italian General Gariboldi at the Tobruk Front; Tank Battles in Cyrenaica; Luftwaffe Units Prepare to Invade Crete. (Operation Mercury); German Paratroops invade Crete; German Mountain Infantry and Paratroopers Pursue the Enemy; Luftwaffe General Student Salutes Victorious Paratroopers; (Also available on VHS)
NEWSREEL 562: Hitler Receives Croatia's Head of State Ante Pavelic; New Alsace SA Units in Strassburg are Sworn-in; Heavy Bombing Raid on Birmingham; Port of Canea Captured in Crete; The Swastika Flies over Crete; Afrika Korps Soldiers Visit a Bedouin Camp.
NEWSREEL 564: Germany Attacks Soviet Union. (Operation Barbarossa); Wehrmacht Units Advance Toward Kaunas, Lithuania;
NEWSREEL 565: German Troops Arrive in Finland; Fortress Kaunas Taken by German Troops; Swift Advance Toward Minsk;
DISK 2: July 10, 1941 - Aug 6, 1941
NEWSREEL 566: Bavarian Mountain Infantry Capture Lemberg (Lvov) after Heavy Fighting;70,000 Soviet Troops Surrounded near Minsk; Heavy Battles Rage in Lithuania;
NEWSREEL 567: Finno-German Soldiers Soviet Armies Surrounded in Bialystok-Minsk Region, 325,000 Surrender; Mechanized Forces Attack Toward Leningrad.
NEWSREEL 569: German Destroyers Attack Soviet Patrol Boats near Murmansk;
NEWSREEL 570: Hitler Visits the Eastern Front; Vinnitsa and Mogilev Taken by German and Hungarian Troops; Waffen-SS in Combat Northeast of Lake Peipus;


Title: ThroughEnemyEyes.V05.D1
Size: 3.70 Gb ( 3 883 732,00 KBytes ) - DVD-5
Enabled regions: 1, 2, 3, 4, 5, 6, 7, 8

VTS_01 :
Play Length: 00:00:33
Video: NTSC 4:3 (720x480) VBR
Audio:
Not specified (Dolby AC3, 2 ch)

VTS_02 :
Play Length: 00:20:04
Video: NTSC 4:3 (720x480) VBR
Audio:
Not specified (Dolby AC3, 2 ch)

VTS_03 :
Play Length: 00:21:10
Video: NTSC 4:3 (720x480) VBR
Audio:
Not specified (Dolby AC3, 2 ch)

VTS_04 :
Play Length: 00:26:22
Video: NTSC 4:3 (720x480) VBR
Audio:
Not specified (Dolby AC3, 2 ch)

VTS_05 :
Play Length: 00:27:14
Video: NTSC 4:3 (720x480) VBR
Audio:
Not specified (Dolby AC3, 2 ch)

VTS_06 :
Play Length: 00:22:26
Video: NTSC 4:3 (720x480) VBR
Audio:
Not specified (Dolby AC3, 2 ch)

–––––––––––––––––––––––––––––––––––-

Title: ThroughEnemyEyes.V05.D2
Size: 3.77 Gb ( 3 957 116,00 KBytes ) - DVD-5
Enabled regions: 1, 2, 3, 4, 5, 6, 7, 8

VTS_01 :
Play Length: 00:00:33
Video: NTSC 4:3 (720x480) VBR
Audio:
Not specified (Dolby AC3, 2 ch)

VTS_02 :
Play Length: 00:25:43
Video: NTSC 4:3 (720x480) VBR
Audio:
Not specified (Dolby AC3, 2 ch)

VTS_03 :
Play Length: 00:36:55
Video: NTSC 4:3 (720x480) VBR
Audio:
Not specified (Dolby AC3, 2 ch)

VTS_04 :
Play Length: 00:31:29
Video: NTSC 4:3 (720x480) VBR
Audio:
Not specified (Dolby AC3, 2 ch)

VTS_05 :
Play Length: 00:33:59
Video: NTSC 4:3 (720x480) VBR
Audio:
Not specified (Dolby AC3, 2 ch)


Thanks to original uploader