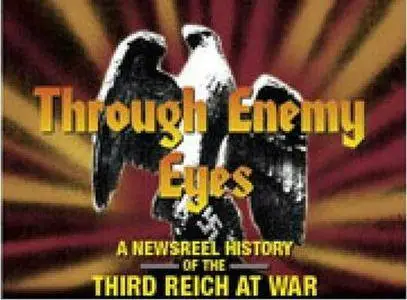 Through Enemy Eyes. A Newsreel History of the Third Reich at War. Volume 4 (1939-1945)
DVD Video, 2 Disc Set | 255 minutes | NTSC 4:3 | 720x480 | 3.56 Gb + 3.57 Gb
German: Dolby AC3, 2 ch
Subtitle: English
Genre: Documentary | History | War | Series
amazon.com
A Newsreel History of the Third Reich at War: Go behind enemy lines on a journey that traces the rise and fall of German military fortunes… the great battles, the desperate hours captured via authentic uncut newsreels, exactly as presented to German wartime cinema audiences.
Now see the Second World War as you've never seen it before: Through Enemy Eyes.
All newsreels have been transferred from original 35 millimeter and 16 millimeter German prints and have been accurately translated and electronically subtitled in English.
Contents of Through Enemy Eyes Volume 4 DISK 1: Jan 2, 1941 - Feb 26, 1941
NEWSREEL 539: Germany's and Italy's Ambassadors Attend Ceremonies
NEWSREEL 542: Motorcycle Riflemen on Maneuvers in Occupied Southern France; Adolf Galland Shoots Down a British Plane - His 57th Kill.
NEWSREEL 543: Luftwaffe Bombs Valletta, Malta; Aircraft Carrier H.M.S.Illustriousis Hit;
NEWSREEL 544: Heavy Bombers Raid Scottish Coastal Shipping; Auxiliary Cruiser on a Combat Mission in Tropical Waters;
NEWSREEL 545: Funeral of Hungary's Foreign Minister Csâky; Reich Youth Leader Axmann Visits Oslo;
NEWSREEL 547: Meeting of Mussolini and Franco in Bordighera, Italy; World Champ Boxer Max Schmeling Volunteers for Airborne Duty; SS General Sepp Dietrich Inspects the SS Leibstandarte Adolf Hitler;
DISK 2: Mar 5, 1941 - Apr 30, 1941
NEWSREEL 548: Infantry Units on Winter Maneuvers;
NEWSREEL 550: Victorious U-boat Crew is Decorated;
NEWSREEL 553: Afrika Korps on the Offensive in North Africa;
NEWSREEL 554: Afrika Korps Units Capture Agheila and Benghazi; Combat in Croatia and Slovenia; Waffen SS Units Approach Belgrade;
NEWSREEL 556: Afrika Korps Advance to Sollum; The Führer Welcomes Bulgarian King Boris and Hungarian Regent Horthy; Yugoslavia Capitulates; German Troops in Historic Sarajevo;


Title: ThroughEnemyEyes.V04.D1
Size: 3.56 Gb ( 3 736 200,00 KBytes ) - DVD-5
Enabled regions: 1, 2, 3, 4, 5, 6, 7, 8

VTS_01 :
Play Length: 00:00:33
Video: NTSC 4:3 (720x480) VBR
Audio:
Not specified (Dolby AC3, 2 ch)

VTS_02 :
Play Length: 00:21:03
Video: NTSC 4:3 (720x480) VBR
Audio:
Not specified (Dolby AC3, 2 ch)

VTS_03 :
Play Length: 00:19:29
Video: NTSC 4:3 (720x480) VBR
Audio:
Not specified (Dolby AC3, 2 ch)

VTS_04 :
Play Length: 00:22:12
Video: NTSC 4:3 (720x480) VBR
Audio:
Not specified (Dolby AC3, 2 ch)

VTS_05 :
Play Length: 00:19:29
Video: NTSC 4:3 (720x480) VBR
Audio:
Not specified (Dolby AC3, 2 ch)

VTS_06 :
Play Length: 00:23:47
Video: NTSC 4:3 (720x480) VBR
Audio:
Not specified (Dolby AC3, 2 ch)

VTS_07 :
Play Length: 00:23:04
Video: NTSC 4:3 (720x480) VBR
Audio:
Not specified (Dolby AC3, 2 ch)

–––––––––––––––––––––––––––––––––––-

Title: ThroughEnemyEyes.V04.D2
Size: 3.57 Gb ( 3 747 992,00 KBytes ) - DVD-5
Enabled regions: 1, 2, 3, 4, 5, 6, 7, 8

VTS_01 :
Play Length: 00:00:33
Video: NTSC 4:3 (720x480) VBR
Audio:
Not specified (Dolby AC3, 2 ch)

VTS_02 :
Play Length: 00:16:33
Video: NTSC 4:3 (720x480) VBR
Audio:
Not specified (Dolby AC3, 2 ch)

VTS_03 :
Play Length: 00:23:58
Video: NTSC 4:3 (720x480) VBR
Audio:
Not specified (Dolby AC3, 2 ch)

VTS_04 :
Play Length: 00:08:17
Video: NTSC 4:3 (720x480) VBR
Audio:
Not specified (Dolby AC3, 2 ch)

VTS_05 :
Play Length: 00:24:17
Video: NTSC 4:3 (720x480) VBR
Audio:
Not specified (Dolby AC3, 2 ch)

VTS_06 :
Play Length: 00:23:39
Video: NTSC 4:3 (720x480) VBR
Audio:
Not specified (Dolby AC3, 2 ch)

VTS_07 :
Play Length: 00:24:24
Video: NTSC 4:3 (720x480) VBR
Audio:
Not specified (Dolby AC3, 2 ch)


Thanks to original uploader