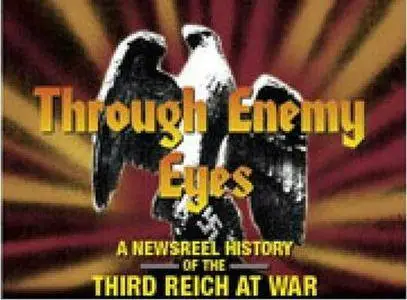 Through Enemy Eyes. A Newsreel History of the Third Reich at War. Volume 3. Disk 2 (1939-1945)
DVDRip | Avi | Xvid, ~ 1900 kbps | 720x480 | 5 x ~ 20 minutes | 5 x ~ 280 Mb
German: Dolby AC3, 2 ch, 256 kbps
Subtitle: English (Hardsub)
Genre: Documentary | History | War | Series

A Newsreel History of the Third Reich at War: Go behind enemy lines on a journey that traces the rise and fall of German military fortunes… the great battles, the desperate hours captured via authentic uncut newsreels, exactly as presented to German wartime cinema audiences.
Now see the Second World War as you've never seen it before: Through Enemy Eyes.
All newsreels have been transferred from original 35 millimeter and 16 millimeter German prints and have been accurately translated and electronically subtitled in English.
Contents of Through Enemy Eyes Volume 3 DISK 2: Nov 20, 1940 - Dec 28, 1940
NEWSREEL 533: Memorial Services Honor Fallen Soldiers in Flanders;
NEWSREEL 534: Italian Front Lines in North Africa; Ethnic Germans Depart Bessarabia for Fatherland; Foreign Ministers of Spain (Serrano Söñer) and Italy (Ciano) Visit Hitler at Berchtesgaden; Romania's Antonescu and Slovakia's Tuka also sign Tripartite Pact; Luftwaffe stages a Massive Raid on Coventry; Daring Exploits of U-boat Lieutenant Kretschmer
NEWSREEL 536: Mountain Troop Artillery Exercise In Austrian Alps; Night Raid on Targets in England: Birmingham in Flames; Admiral Raeder Launches Battleship Bismarck; Exploits of U-boat Captain Endress:
NEWSREEL 537: Field Marshal Von Brauchitsch Visits Troops in the East; King Michael of Romania Reviews a Parade of German Advisory Troops in Bucharest; The Old Orient Express Railway Line Rebuilt in France; Reich Leader Alfred Rosenberg Speaks at the Chamber of Deputies in Paris;
NEWSREEL 538: Japanese Planes Bomb Chiang Kai-shek's Supply Lines on Burma Road; Life in Warsaw is back to Normal Again; Rifle Making at a Famous Gunsmith Plant in Steyr; Captured British Submarine is Converted to a U-boat and Commissioned Under the German Battle Flag.