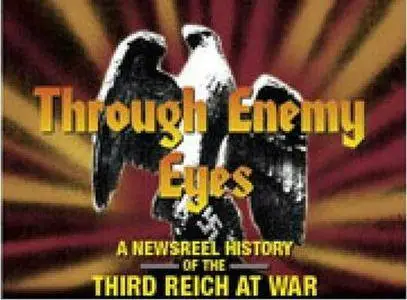 Through Enemy Eyes. A Newsreel History of the Third Reich at War. Volume 2. Disk 2 (1939-1945)
DVDRip | Avi | Xvid, ~ 1900 kbps | 720x480 | 5 x ~ 20 minutes | 5 x ~ 280 Mb
German: Dolby AC3, 2 ch, 256 kbps
Subtitle: English (Hardsub)
Genre: Documentary | History | War | Series

A Newsreel History of the Third Reich at War: Go behind enemy lines on a journey that traces the rise and fall of German military fortunes… the great battles, the desperate hours captured via authentic uncut newsreels, exactly as presented to German wartime cinema audiences.
Now see the Second World War as you've never seen it before: Through Enemy Eyes.
All newsreels have been transferred from original 35 millimeter and 16 millimeter German prints and have been accurately translated and electronically subtitled in English.
Contents of Through Enemy Eyes Volume 2 DISK 2: Jun 27, 1940 - Aug 7, 1940
NEWSREEL 512: Alsace-Lorraine Reclaimed by Germany; Marshal Pétain Agrees to German Armistice Terms; German Troops Parade in Paris;
NEWSREEL 513: Germany's Endless Columns Stream Into Conquered France; National Socialist Welfare Aids French Civilian Refugees; German Engineers Spearhead French Reconstruction; Hitler Visits Parisian Landmarks;
NEWSREEL 514: Air Defense Drills Staged for King George VI in England; Hitler Greets Victorious Troops in Alsace-Lorraine; The Inseparable Bond between Führer and Soldiers; Hitler and Entourage Visit Strasbourg Cathedral; Hitler Inspects Shattered Maginot Line; The Rhine: firmly in German Hands ; Hitler's Return to Berlin: Jubilant Germans Greet the Führer; Preparing the Celebration in Berlin; Surging Berliners Salute Hitler's Motorcade Procession;
NEWSREEL 516: Italy's Role in Defeating France: Skirmishes on Alpine Front and French Rivera; Mussolini Inspects Alpine Front; Italian Navy Patrols Mediterranean; Italian Fighters in East Africa;
NEWSREEL 518: Sport and Exercise for the German Girls League; 1940 German Industry and Military Might: Manufacturing Panzers.