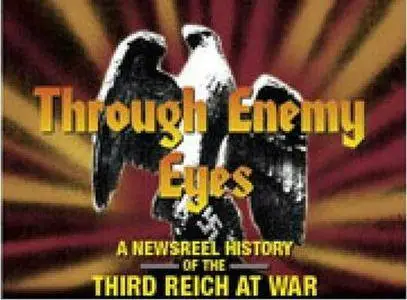 Through Enemy Eyes. A Newsreel History of the Third Reich at War. Volume 1. Disk 2 (1939-1945)
DVDRip | Avi | Xvid, ~ 1900 kbps | 720x480 | 8 x ~ 20 minutes | 8 x ~ 280 Mb
German: Dolby AC3, 2 ch, 256 kbps
Subtitle: English (Hardsub)
Genre: Documentary | History | War | Series

A Newsreel History of the Third Reich at War: Go behind enemy lines on a journey that traces the rise and fall of German military fortunes… the great battles, the desperate hours captured via authentic uncut newsreels, exactly as presented to German wartime cinema audiences.
Now see the Second World War as you've never seen it before: Through Enemy Eyes.
All newsreels have been transferred from original 35 millimeter and 16 millimeter German prints and have been accurately translated and electronically subtitled in English.
Contents of Through Enemy Eyes Volume 1 DISK 2: Oct 25, 1939 - Mar 6, 1940
NEWSREEL 477: German Troops Patrol West Wall Fortifications; U-Boat Captain Prien and Crew Welcomed in Berlin;
NEWSREEL 480: New Japanese Foreign Minister Takes Office; Assassination Attempt on Hitler in Munich.
NEWSREEL 482: Pre-Military Training for Hitler Youth; Baltic Germans Resettled in Posen;
NEWSREEL 483: Sports Events in Spain, Japan and Germany; British Navy Blockades North Sea Countries; Luftwaffe Reconnaissance Over English Coast
NEWSREEL 488: Evacuation of Tientsin by the British; Anti-Air Defense Exercises in Germany.
NEWSREEL 491: Ethnic Germans From Russia Return to Fatherland; Goebbels Tours Western Air Defense Zone;
NEWSREEL 492: International Winter Games in Bavaria; Hitler Speaks at Berlin Sports Palace; Luftwaffe Planes Sink British Ships in North Sea;
NEWSREEL 496: Duce Reviews Elite Militia in Rome; German Wartime Trade Fair in Leipzig; Blitzkrieg Formations in Combat.